6 results - showing 1 - 6  
Hot Deals
Chris   May 20, 2014  
0
0
If you are subscribed to the HomeDepot PRO newsletter you are probably used to them sending you a lot a mail with hardly any value in them; but every once in a great while they have a coupon or sale in them that makes it all worth it. Yesterday's email was one of the rare gems, announcing an online sale on select Milwaukee Tools, Ridgid tools, Pnuematic compressors and nailers, and more. And this isn't just a regular sale, the saving on some of the items is big. An 18-Volt Milwaukee Hammer...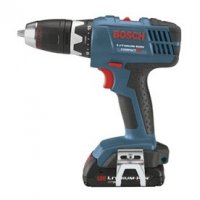 Hot Deals
Chris   November 11, 2012  
0
1
Lowe's is in a giving mood this Veterans day, offering some nice discounts on even more power tools and some accessories. It looks like these deals will expire tomorrow so you better act while you can. Don't forget about the Lowe's Black Friday and Christmas Days sales we posted last week. Thanks Vets for our Freedom and for giving retailers a reason to have sales.  
News
Chris   April 07, 2011  
0
0
When Black & Decker merged with Stanley we knew there would be some changes, but we had no idea Stanley, which is known for their hand tools, would be all but replaced by first Bostitch, and now DeWalt. But in fact the news is true; the DeWalt name will soon be found on a number of hand tools. DeWalt and hand tools just seems odd to me, but I am sure B&D has a plan. I guess it would help DeWalt if their yellow tools out numbered the other tools in one's tool bag; after all,...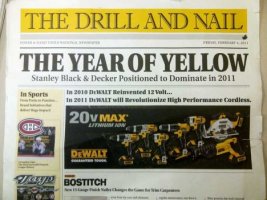 News
Chris   March 18, 2011  
0
0
ToolsInAction has the scoop on what is possibly the new 20V Max lithium-ion line from DeWalt. They somehow got a hold of a flyer that pictures what appears to be a new line that will be released later this year. I believe DeWalt announced their 12V line back in June of last year, so if they are following the same timeline, we have a few more months to wait. The flyer shows 3 drills, 2 impacts, a reciprocating saw, and a circular saw. The new line looks a lot like their 12V line, and uses a...
News
Chris   January 03, 2011  
0
0
I don't spend a lot of time on Twitter, but I do like to check in throughout the day to respond to my followers, and to see what might be new in the world of tools. A couple of days ago a tweet from @RocklerDave pointed to some new products that Rockler.com will be carrying. As a lover of tools, it was my duty to click on the link to see what was new.
News
Chris   December 01, 2010  
0
0
One of the handiest tools we use is the nail set. I mean how ugly would our trim look with nails sticking out, or even worst, trim with hammer dents? So now that we have established how great they are, how can they be made better? Bostitch came up with a simple solution that improves upon the classic design, and does so without breaking the bank. Their new 58-500 nail set doesn't appear to be any different at first glance. It is only when you take a closer look that you notice it is...
6 results - showing 1 - 6