3 results - showing 1 - 3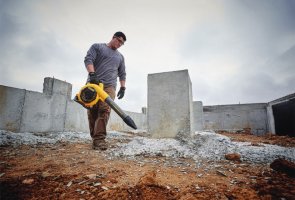 Tool Blog
Chris   March 16, 2017  
0
4
After DeWalt only recently came out with their Flexvolt system to address the needs of power hungry cordless tools, they have expanded the line to include the growing market of cordless outdoor power equipment. The DeWalt Flexvolt Outdoor Power Equipment lineup will include a new 60V Max Chainsaw, Handheld Blower, and String Trimmer.
Tool Blog
Chris   October 27, 2014  
0
6
Recently, at the GIE Expo, DeWalt announced that in March of 2015 they will be coming out with a new line of 40V Max Outdoor Power Tools. The Line will consist of both 4.0Ah and 6.0Ah 40V Max Brushless String Trimmers, Brushless Blowers and they will even have a Hedge Trimmer available.
Tool Blog
Chris   January 17, 2014  
0
2
Milwaukee Tool is expanding their M18 Lithium-ion system even further with the introduction of their new M18 Cordless Compact Blower. Delivering 100 CFM and 160 RPM with a variable speed trigger and three speeds, Milwaukee says the 0884-20 is the most powerful compact cordless blower in its class. Though that shouldn't be too difficult because the class is pretty small.
3 results - showing 1 - 3