2 results - showing 1 - 2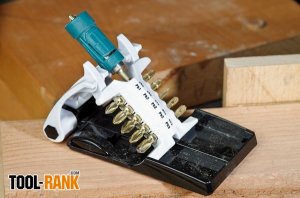 Reviews
Chris   January 23, 2014  
0
11
A while back Makita sent out a sample pack of their new Impact Gold Bits, Sockets, and Nut Drivers, all of which are rated to handle the high torque that today's impact drivers can deliver. They also sent out some fasteners, some fastening materials and some suggestions on how to put their new impact ready bits to the test. Of course I ignored their scenarios and put the Makita Impact Gold Bits to the test while on the job.
News
Chris   May 07, 2013  
0
1
Nobody likes to spend their hard earned cash on driver bits or sockets, only to have them break after a few uses in your impact driver. This used to be a big problem when impact drivers were first introduced and people might be noticing it again now that impacts are offering even more torque. Irwin has introduced a new Impact Performance Line that has been designed with today's impact drivers in mind.
2 results - showing 1 - 2