2 results - showing 1 - 2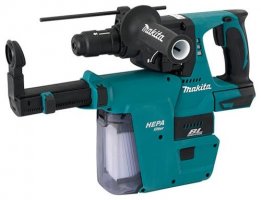 News
Chris   September 04, 2012  
0
4
Almost exactly 3 years ago Makita announced their first 36-volt cordless tool, and today we got word of a new 36-volt rotary hammer that I assume will take its place. There is also news of a new Makita 18-volt rotary hammer that is brushless and even has an on-board HEPA vac option.
Manufacturer News
Chris   September 04, 2009  
0
0
No, you are not day dreaming... Makita has just introduced a brand new 36 volt cordless LXT lithium-ion 1" SDS-Plus rotary hammer. Makita says the new BHR261 was designed and engineered to offer the power and speed of a corded 1" rotary hammer, with the freedom offered from being cordless. The BHR261 has 3 modes of operation that should accommodate all of your construction/destruction needs: "Rotation only" for those delicate materials, "hammering with rotation" for drilling into harder tougher materials, and "hammering only" used for material removal. The BHR261 uses a Makita built motor...
2 results - showing 1 - 2