2 results - showing 1 - 2  

Weekend Links
Chris   July 14, 2012  
0
0
New Bosch Workwear – Capris for workers? - Tools In Action Is it fun to laugh at the expense of others? It is when you see people who are supposed to be "construction workers" dancing around like they were on a reality TV show. They got our attention so I guess their plan worked, though maybe not the attention Bosch wanted because the video evidence has been removed from YouTube. Black & Decker is Working on a Modular Power Tool System? - ToolGuyd ToolGuyd seems to have some inside information...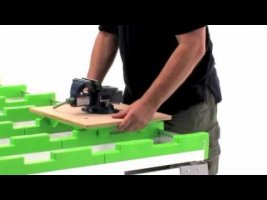 News
Chris   October 07, 2011  
1
0
Check out this new multifunction table that is sure to give the Festool MFT some competition. If size matters to you, take a look at the Benchmark Portable Work Table from Hagar Tools. The Benchmark is a foldable aluminum work table that is big enough to allow users to rip down full 4'x8' sheet goods.
2 results - showing 1 - 2