2 results - showing 1 - 2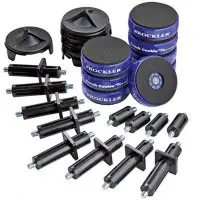 Hot Deals
Chris March 03, 2014
0
1
While Rockler's popular Bench Cookie Plus Master Kit normally sells for just under $64, it has come to my attention that it is currently on sale for only $39.99. The Plus Master kit not only includes a set of non-slip router cookies, but also a few different accessories that extend their versatility.
News
Chris December 08, 2010
0
0
I would have never expected to see accessories for something as simple as the Rockler Bench Cookies, but you can't go wrong when trying to make a product even more useful. The new Cones for Bench Cookie offer painters a way to utilize the non-slip abilities of the Bench Cookie, and apply this to there finishing process. The cones will work with all Bench Cookie models and simply fit snugly over the body of the cookie. What the cone does is further lift your project off of your bench, which allows for greater access...
2 results - showing 1 - 2