3 results - showing 1 - 3  
News
Chris   May 06, 2013  
1
1
Kreg is making using their products a bit easier and a bit faster with their new line of Automaxx self-adjusting clamps. Best of all, they came out with a self-adjusting AutoMaxx Klamp that works with their existing Klamp line, like the Klamp Table or Klamp track.
News
Chris   September 13, 2011  
1
0
Besides being a commercial for Festool products, in the video below, Gary Katz does a really good job showcasing and explaining the new Bessey Auto-Adjust Toggle Clamps. These are the clamps I showed you a while back that appear to use the same or similar technology as my favorite LockJaw Auto-Adjusting Clamps. When I first posted about these clamps back in July, I also posted a video from Bessey that showcases the clamps, but what I like about the Gary Katz video is that he shows us how, as a woodworker or as a finish carpenter, you can use...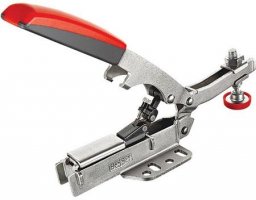 News
Chris   July 20, 2011  
1
1
Toggle clamps are the go to clamps when it comes to jigs and fixtures for hobby woodworking and even large scale manufacturing. Their ability to secure your workpiece in just a matter of seconds is what makes them ideal for many clamping needs. However, toggle clamps do have a downside, they do require a bit of setup time to get the clamps adjusted to the size of material you are clamping. If you need to change from one size of material to another, you are better off just build a jig for each size. All of adjustments...
3 results - showing 1 - 3