3 results - showing 1 - 3  
News
Chris   October 03, 2012  
1
4
In the 40's Dremel came out with what was basically a powered coping or fret saw. This tool they called the Moto-Saw was pretty revolutionary for its time and they even advertised it as "more like magic than any tool you ever saw". Seventy plus years later Dremel has a new version of the Moto-Saw that still looks like a fancy powered fret saw but can also be mounted in a stand and used as a small scroll saw.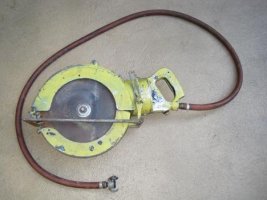 News
Chris   July 27, 2012  
0
1
Antique tool collectors might be interested in this rare WW2 era pneumatic (worm drive?) Skil Saw. Some of you older tool users may have heard folklore about such a tool, and maybe a rare few have even seen this mystical tool in person.
News
Chris   March 04, 2012  
0
1
Back in the early 30's Delta came out with a new magazine to help promote Delta woodworking tools and to provide tips and tricks for Delta tools owners; this magazine was called Deltagram. Now these historic magazines will see new life as they are reissued online as free PDF documents
3 results - showing 1 - 3