5 results - showing 1 - 5  
Reviews
Chris   July 25, 2014  
0
11
A few months ago I wrote about a new product that promises to be "The Ultimate Measuring Tape Assistant". At the time I really liked the idea behind the product—a better hook for your tape measure—but I questioned how accurate it could be. Tape-Ease offered to send me a couple so I could test them out for myself, and I was happy to take them up on their offer.
Tool Blog
Chris   April 09, 2014  
0
2
Milwaukee has introduced a new line of Shockwave Thin Wall Hole Saws that have designed to meet the needs of professionals who regularly need to drill through thin sheet metal. As part of the Shockwave line, these hole saws features a ¼" hex shank so they can be used in Impact Drivers.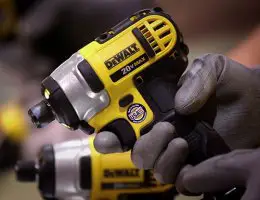 Manufacturer News
Chris   November 11, 2013  
1
1
Today DeWalt announced that they will begin to build more than 600 different hand tools, cordless tools and accessories in the USA using global materials. Included will be some of their most popular products, such as the 20V Max Lithium-ion Compact Drill/Driver Kit and the 20V Max Lithium-ion ¼-inch Impact Driver Kit. The new tools will be marked with a "Built In USA" logo.
News
Chris   June 24, 2013  
0
1
We all need to use bit tips on the jobsite, and probably more than one type. To make sure you are covered, DeWALT has come out with three new 31-piece bit sets that meet the needs of three different trade types. They also housed them in a new smaller Tough Case so you know they will stay organized even if they spend their days riding around in the back of a pickup.
News
Chris   June 01, 2012  
0
0
Nobody likes it when they go to use a tool only to find it covered in rust. This is especially an issue with cutting tools that are made with more carbon so they stay sharp longer. A product called GoldenRod wants to prevent your tools from the possibility of rust by using a bit of heat.
5 results - showing 1 - 5