9 results - showing 1 - 9
Tool Blog
Chris June 30, 2016
0
7
DeWalt has come out with a revolutionary new FlexVolt battery that can automatically change its voltage from 20V to 60V to match the voltage required by the tool. Two FlexVolt batteries can also be combined to deliver 120V Max to tools that require even more power. Best of all, the new DeWalt FlexVolt battery pack is backward compatible with existing DeWalt 20V Max cordless tools.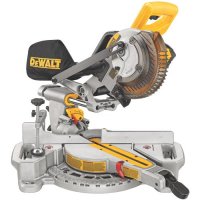 Tool Blog
Chris May 01, 2015
0
2
Oftentimes it can be a battle to find an empty power outlet on a busy jobsite, so it is probably a dream of many tradesman—not just myself—to be able to go completely cordless with their power tools. DeWalt is taking their users one step closer to this dream with the introduction of the new DCS361 20V Max 7-1/4 Inch Sliding Single-Bevel Miter Saw.
Reviews
Chris October 17, 2014
0
14
When Milwaukee announced that they were coming out with an 18-volt cordless 7-1/4-inch circular saw I was both shocked and impressed. Why? Just months earlier one of their competitors came out with the first cordless 7-1/4-inch circular saw, but it required 2x18V batteries (36V). Could Milwaukee do the same with one less battery? To find out for myself, Milwaukee sent me their 2731-21 M18 FUEL Brushless 7-1/4" Circular Saw Kit to review.
Reviews
Chris June 20, 2014
0
9
One tool that everyone wants to be able to have as cordless, is the circular saw, and cordless multi-kits have been including them for years. But were these cordless circular saws any good? Nope. For years we have had to suffer with cordless saws that were so underpowered we wondered why we even bothered lugging them around—because they were convenient, that's why. When Makita announced their new XSH01 18V X2 Circular Saw, they promised us that their saw finally delivered the power and runtime that contractors need. And to make sure it is actually true, they sent us one...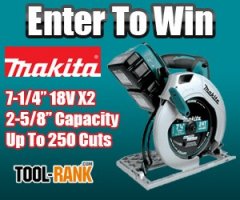 Tool-Rank
Chris March 24, 2014
0
1
Contest Information
Contest Ends
April 20, 2014
I am excited to announce that Makita has joined in on the giveaway fun and is offering up their brand new 18V X2 (36-volt) 7-1/4-inch Cordless Circular Saw for this month's giveaway. This saw gives you the power of a corded saw with the portability of a cordless by using two 18V batteries to give you a total of 36-volts of power. The added power that this saw offers also allows it to use a standard 7-1/4-inch saw blade rather than a typical 6 or 6-1/2-inch blade.
Tool Blog
Chris January 24, 2014
0
3
We all know how handy cordless circular saws can be, but we also know that they are usually lacking when it comes to overall power and battery run-time. Makita, continuing to expand their new 2x 18-volt (36V) system, showcased their new 2x Cordless 7-1/4" Circular Saw (XSH01Z) that I am sure addresses some of the cordless circular saw shortcomings that we have all come to know and dislike.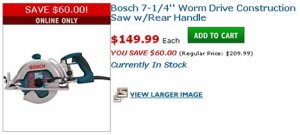 Hot Deals
Chris July 09, 2012
0
0
Many professionals consider the Bosch 1677M Worm Drive 7-1/4" Circular Saw to be a good upgrade from the classic Skil 77 Worm Drive and is comparable to the Skil Mag77. I should note that Skil is owned by Bosch Tools and that Bosch likely took some of the best of the Skill 77 to make the 1677M. You might have even noticed a couple of digits in the model number of the Bosch pay tribute to the classic Skil 77; the M also tells us that the saw features a light-weight magnesium foot plate. ...
News
Chris August 18, 2011
0
0
Bosch has recently announced a new Saw blade that is part of their DareDevil line. The blade is designed to perform better and last longer than other blades on the market, and if they are anything like their DareDevil Spade bits, framers really having something to look forward too. The boost in performance is due partly to features like Bosch's C3 Micrograin Carbide teeth, which are said to not only stay sharper longer, but they can also resist impact damage. Other features include a special coating on the blade that helps to reduce binding in wet...
News
Chris December 09, 2008
0
1
What is with the lack of selection when it comes to circular saws that are blade on left? It is actually very surprising to me that manufacturers do not make their circular saws in both versions. Do they not realize that some people are left handed, or are like me and just prefer to be able to cut with my right hand, and see the cut at the same time. Cordless saws are blade left, and so are worm drive saws. Why should people have to switch between both, and not have a choice? Some manufacturers actually...
9 results - showing 1 - 9