4 results - showing 1 - 4  
Buyers Guides
Chris   May 03, 2013  
0
1
Does your mom use power tools? Does she ask to borrow yours? Mother's Day is less than 10 days away and is coming upon us fast, so why not buy her a drill of her very own? Skil makes one in pink, so she will automatically love it.
News
Chris   November 13, 2012  
1
0
I don't figure Mr. Bond, James Bond as much of a do-it-yourselfer, but I am guessing that if he was, he would feel the most comfortable using a powered driver like the WORX SD SemiAutomatic Driver. As you might have read in my article about it, or as you will soon see, it has a lot in common with the "tools" of his trade. BUY SD SemiAutomatic Driver - AmazonBUY SD SemiAutomatic Driver - Lowes
News
Chris   November 08, 2012  
0
0
12-volt tools are quickly becoming just as powerful as the 18v tools of just a couple of years ago and might soon eliminate the need for the extra voltage. Just as 12v tools are replacing the need for 18v tools, it looks like Milwaukee could be set on making 4v tools the new compact king, and their new M4 screwdriver is just the start.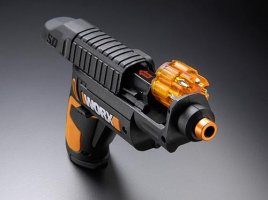 News
Chris   October 25, 2012  
0
1
Tired of having to fumble around with, and keep track of loose driver bits? Worx took the technology of two handgun types and came up with a way to make changing bits hassle free. It looks pretty cool too.
4 results - showing 1 - 4