9 results - showing 1 - 9  
Tool Blog
Chris   February 19, 2015  
1
1
The mechanics behind a CNC router, a laser cutter, and a 3D Printer are mostly the same, so why not make a machine that can do all three with interchangeable heads.? That is the idea behind the CNC Piranha Fx, a new project that is seeking funding on Kickstarter from the makers of the CNC Shark.
Tool Blog
Chris   September 17, 2014  
2
4
In what I consider to be surprising news, today Dremel announced that it will be coming out with their own 3D Printer—the Dremel 3D Idea Builder, something they are claiming will be "the most user-friendly 3D printing experience on the market".  Along with the printer they are launching a growing library of 3D models of items you might find fun or useful around the house.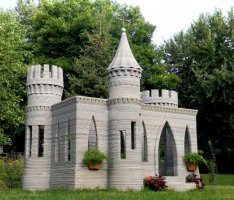 Gadgets
Chris   September 02, 2014  
1
1
Andrey Rudenko, an engineer in Minnesota, has successfully built a large scale castle using a custom designed 3D concrete printer, and that is just the beginning. He started experimenting with 3D printing concrete about 20 years ago and now the technology is here to make full-scale 3D home printing possible.
Gadgets
Chris   April 30, 2014  
0
1
Actually, I funded the cheap $350 Makibox 3D Printer two years ago, and after a lengthy design and production process I got my reward a couple of months ago. What was the purpose of me buying a 3D printer? I wanted to see if an average person, like myself, could benefit from the technology or if 3D printers were over hyped.
News
Chris   August 19, 2013  
0
2
3D printing technology sure has come a long way in these last few years. Something that wasn't even well known, is now not only known, but is at the point where it can actually be used to make production items. The NRG3 Roller Socket Wrench was prototyped using 3D Metal Printing and they plan on using 3D technology in production units.
News
Chris   May 14, 2013  
1
0
Often times the homemade tools we find are more interesting than the actual tools they are meant to mimic. Such is the case with a rotary tool design that is powered by the suction of a vacuum and has the secondary effect of cleaning up after itself.
Weekend Links
Chris   March 16, 2012  
1
0
Stock Your Shop With the Right Nails - Popular Woodworking With nails it is not just about selecting the right size, but nail shape is also very important. The fact is that really old nails hold better than new ones because square shaped nails provide more contact with the wood fibers. In this article Chris Schwarz talks about nail types and their application. 3D printer prints sand grain-size cathedral at record speed – MSN 3D printers are the tools of the future. They are becoming more affordable and the quality...
News
Chris   February 01, 2012  
1
1
3D printers are becoming more and more popular among the DIY crowd. The open source community has been playing a huge part in allowing people to purchase or build their own 3D printers at prices in the neighborhood of $1000, which is pretty good considering what they can do. This year 3D printers are even more popular and the prices are coming down, way down.
News
Chris   December 28, 2011  
1
0
I think one of the coolest advancements over the last few years is in 3D printing. The process is desirable because it allows architects, designers, inventors, etc, the ability to see their concept in 3D in a matter of hours. One of the most common 3D printing methods involves inkjet printing a binder onto a layer of powder. Each layer is stack printed in place, thus creating a 3D model. If you are watching the current season of This Old House, you have seen the method in action.
9 results - showing 1 - 9