3 results - showing 1 - 3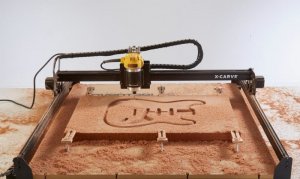 Around The Web
Chris   March 07, 2018  
1
1
Contest Information
Contest Ends
March 31, 2018
With online marketplaces like Etsy and Amazon Handmade, it is easier than ever for a creative person to take an idea that they have had, turn it into a product, and then sell it. The hurdle for many, though, might be how they would manufacture their product. Inventables wants to give your small business a head start by giving you the opportunity to win one of their X-Carve Business Bundle 3D carving machines.
Tool Blog
Chris   February 19, 2015  
1
1
The mechanics behind a CNC router, a laser cutter, and a 3D Printer are mostly the same, so why not make a machine that can do all three with interchangeable heads.? That is the idea behind the CNC Piranha Fx, a new project that is seeking funding on Kickstarter from the makers of the CNC Shark.
Cool Tools
Chris   March 26, 2013  
2
0
You can spend tens of thousands of dollars and purchase a 3D milling machine, or you can do like one guy did and simply make one of Lego parts—though it probably wasn't at all simple to make. They both kind of do the same thing.
3 results - showing 1 - 3