9 results - showing 1 - 9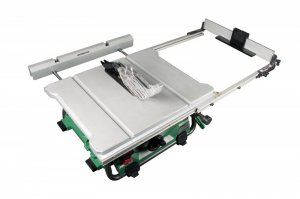 Tool Blog
Chris   May 21, 2019  
1
4
Metabo HPT is expanding on their MultiVolt cordless/corded tool line with the introduction of a 10-inch Portable Jobsite Table Saw. Metabo HPT  MultiVolt Tools like the new C3610DRJQ4 Table Saw can accept a 36V MultiVolt Battery or plug into a standard 120V outlets using their AC adapter.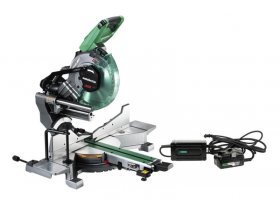 Tool Blog
Chris   November 08, 2018  
0
13
We all love the idea of cordless versions of our favorite benchtop power tools that we can use out in the field, but we are less thrilled about what happens when these power-hungry tools drain the battery. Metabo HPT (formerly Hitachi Power Tools) has launched a brand new line of MultiVolt power tools that address this issue. If you run out of power, simply plug the cordless tool to into a wall outlet.
Reviews
Chris   June 20, 2014  
0
9
One tool that everyone wants to be able to have as cordless, is the circular saw, and cordless multi-kits have been including them for years. But were these cordless circular saws any good? Nope. For years we have had to suffer with cordless saws that were so underpowered we wondered why we even bothered lugging them around—because they were convenient, that's why. When Makita announced their new XSH01 18V X2 Circular Saw, they promised us that their saw finally delivered the power and runtime that contractors need. And to make sure it is actually true, they sent us one...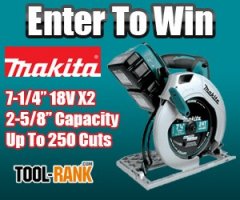 Tool-Rank
Chris   March 24, 2014  
0
1
Contest Information
Contest Ends
April 20, 2014
I am excited to announce that Makita has joined in on the giveaway fun and is offering up their brand new 18V X2 (36-volt) 7-1/4-inch Cordless Circular Saw for this month's giveaway. This saw gives you the power of a corded saw with the portability of a cordless by using two 18V batteries to give you a total of 36-volts of power. The added power that this saw offers also allows it to use a standard 7-1/4-inch saw blade rather than a typical 6 or 6-1/2-inch blade.
Tool Blog
Chris   January 24, 2014  
0
3
We all know how handy cordless circular saws can be, but we also know that they are usually lacking when it comes to overall power and battery run-time. Makita, continuing to expand their new 2x 18-volt (36V) system, showcased their new 2x Cordless 7-1/4" Circular Saw (XSH01Z) that I am sure addresses some of the cordless circular saw shortcomings that we have all come to know and dislike.
News
Chris   May 02, 2013  
0
1
It may not be very well known, but Makita as a worldwide company has a pretty extensive line of outdoor power equipment. Still, I was surprised to see a couple of cordless chainsaw SKU's make an appearance on their U.S. website.
News
Chris   November 06, 2012  
1
2
Back when Makita first announced their 36V rotary hammer 3 years ago I wondered why they just didn't make the tool run on two 18v batteries. I am sure they had their reasons, and maybe they expected to have more 36v tools out by now, but the 18v line is super popular and it just makes sense to have a tool that runs on the most popular battery.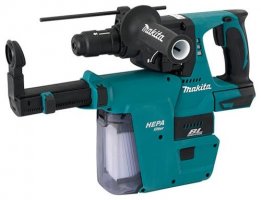 News
Chris   September 04, 2012  
0
4
Almost exactly 3 years ago Makita announced their first 36-volt cordless tool, and today we got word of a new 36-volt rotary hammer that I assume will take its place. There is also news of a new Makita 18-volt rotary hammer that is brushless and even has an on-board HEPA vac option.
Manufacturer News
Chris   September 04, 2009  
0
0
No, you are not day dreaming... Makita has just introduced a brand new 36 volt cordless LXT lithium-ion 1" SDS-Plus rotary hammer. Makita says the new BHR261 was designed and engineered to offer the power and speed of a corded 1" rotary hammer, with the freedom offered from being cordless. The BHR261 has 3 modes of operation that should accommodate all of your construction/destruction needs: "Rotation only" for those delicate materials, "hammering with rotation" for drilling into harder tougher materials, and "hammering only" used for material removal. The BHR261 uses a Makita built motor...
9 results - showing 1 - 9