3 results - showing 1 - 3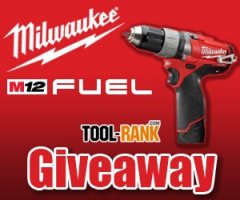 Tool-Rank
Chris   July 09, 2013  
0
1
Contest Information
Contest Ends
August 09, 2013
Do you know what time it is? It's giveaway time. And since we haven't done a Milwaukee giveaway in a while, and because they have been releasing a lot of really nice products lately, we decided to team up with them for this giveaway. What we have to offer is one of their new M12 Fuel Brushless Drills.
News
Chris   January 08, 2013  
0
1
Milwaukee announced on their Facebook page that products from their new M12 Fuel line will start shipping to stores on February 1, 2013, which means that you should be able to purchase them later in the month.
News
Chris   November 05, 2012  
0
2
Milwaukee first made their new brushless M12 Fuel line of drills and impacts known during their press event way back in June. They then gave us the clue about the winter release date back in August. Now, with winter just around the corner, they have released the specs, and they have us wondering if you really need 18v tools anymore.
3 results - showing 1 - 3