3 results - showing 1 - 3  
Reviews
Gary   October 10, 2014  
0
8
A dilemma for me has often been how to nail up fine wood molding without marring it with large unsightly holes or peppering it with oodles of smaller holes. When it comes to nailing trim work, is it possible to have the holding strength of an 18-gauge nail while leaving a mark not much greater than a 23-gauge headless nail? Senco may have the answer with their new 21-gauge slight-head pinner.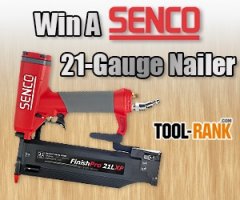 Tool-Rank
Chris   June 02, 2014  
1
1
Contest Information
Contest Ends
June 30, 2014
It's giveaway time. This month Tool-Rank has teamed up with Senco to giveaway a brand new product, their new 21-gauge FinishPro Nailer. When an 18-gauge nailer is too big, and a 23-gauge is too small, Senco says their new 21-gauge nailer is just right.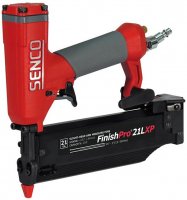 Tool Blog
Chris   April 21, 2014  
0
1
When 23-gauge is too small and 18-gauge is too big, Senco says their 21-gauge nailer is "just right". But unlike most pin nailers, the new Senco FinishPro 21LXP uses nails that have a slight/medium head. Senco says it delivers the holding power of a brad nail with a much smaller hole.
3 results - showing 1 - 3