18 results - showing 11 - 18  
Manufacturer News
Chris   January 27, 2014  
0
1
DeWalt has always received high reviews for their cordless gas-free trim nailers, and now it seems they are ready to utilize their technology in a more powerful cordless framing nailer. The DeWalt DCN692 will be their first dual-speed gas-free 20V Max Cordless Framing Nailer.
Hot Deals
Chris   November 18, 2013  
0
1
Woot is running a special on the Porter-Cable PCC606LA 20V Max ½-Inch Cordless Drill-Driver Kit for the low price of $79.99 + shipping. The next lowest price I can find for it online is $99, but most stores are selling it for $109 or higher. The kit does include one 20V Max lithium-ion compact battery, a charger, and a double ended bit-tip. Features: 2-speed gear box. High and Low (0-400/0-1,600) ½-inch all metal ratcheting chuck Onboard battery fuel gauge Integrated LED work light ...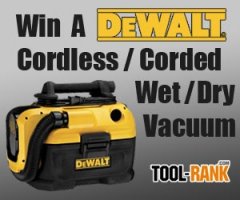 Tool-Rank
Chris   September 03, 2013  
0
1
Contest Information
Contest Ends
September 30, 2013
If you leave a mess at a job you might just end up getting yelled at; but fear not, for DeWALT has recently come out with a new wet/dry vacuum that is both corded and cordless and is small enough for you to take with you. Thanks to the fine folks at DeWALT, we have the aforementioned DCV581H Vacuum as the prize for this month's Tool-Rank giveaway.
News
Chris   March 21, 2013  
0
4
April fool's day is just around the corner, but DeWalt was not joking when they announced that their Model: DCR015 12V MAX/20V MAX Combination Radio/Charger will be available starting on April 1st.*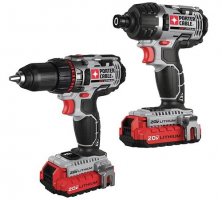 News
Chris   January 07, 2013  
0
1
Porter-Cable has announced a February release date for their new 20V Max Lithium-ion Drill and Impact Driver. And Tool-Rank still hates having to explain to people that 20V Max is the same as 18V.
News
Chris   August 21, 2012  
0
4
Black & Decker has just announced their new Matrix Multi-Head modular tool system which will allow users to build up their tool inventory one head at a time. Users will also be able to select the power of the new system by selecting one of three power base units.
News
Chris   February 08, 2012  
0
18
Today DeWalt showed us that there are not messing around and they are willing to compete with the other brands to win you over. They were a little behind and had to play catch up with their 18-volt slide-style battery tools known to us as 20V Max, but it looks like they have kept their engineers busy to keep the 20V Max selection growing fast. It was back in June 2011 when DeWalt first introduced their 20V Max tool line and now, only 8 months later, they are expanding on their line with 8 new 20V tools. ...
Editorial
Chris   January 10, 2012  
0
0
The world of tools is filled with lots of questions and confusions, which are sometimes magnified by tool manufacturers and their fancy way of using words to try and sell you something. These confusions can be hard for the consumer who just wants to buy the right tool. So, in order to clear up some of these questions, I thought I would answer some of the most common questions I receive.
18 results - showing 11 - 18