18 results - showing 1 - 10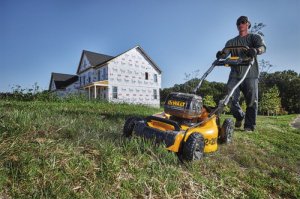 Tool Blog
Chris   February 23, 2018  
1
2
After a few years of offering cordless outdoor power equipment, DeWalt has announced that they will finally be offering a 40V Brushless Mower as an option for professional landscapers, and a second 2x20V MAX mower will also be available for Contractors and DIY'ers.
Tool Blog
Chris   June 30, 2016  
0
7
DeWalt has come out with a revolutionary new FlexVolt battery that can automatically change its voltage from 20V to 60V to match the voltage required by the tool. Two FlexVolt batteries can also be combined to deliver 120V Max to tools that require even more power. Best of all, the new DeWalt FlexVolt battery pack is backward compatible with existing DeWalt 20V Max cordless tools.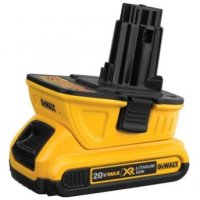 Tool Blog
Chris   September 16, 2015  
0
2
It will now be easier than ever for 18V DeWalt Cordless Tool users to find higher capacity batteries with lithium-ion technology, all thanks to DeWalt's new DCA1820 20V to 18V battery adaptor. The new battery adaptor will allow most of DeWalt's 18V Cordless Tools to function off of Lithium-ion battery's from the newer DeWalt 20V Max system.
Tool Blog
Chris   September 02, 2015  
1
1
It is easier than ever to find great cordless power tools no matter the brand, so to set your company apart from the rest you need to think outside the box. DeWalt may have done just that with their new line of Bluetooth enabled 20V MAX 2.0 Amp (DCB203BT) and 4.0 Amp (DCB204BT) lithium ion batteries. Of course, Bluetooth by itself is pointless, which is why DeWalt has introduced their Tool Connect App, which allows users to control their new batteries with their smartphone.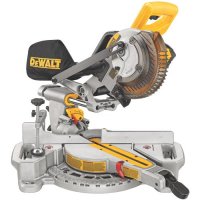 Tool Blog
Chris   May 01, 2015  
0
2
Oftentimes it can be a battle to find an empty power outlet on a busy jobsite, so it is probably a dream of many tradesman—not just myself—to be able to go completely cordless with their power tools. DeWalt is taking their users one step closer to this dream with the introduction of the new DCS361 20V Max 7-1/4 Inch Sliding Single-Bevel Miter Saw.
Tool Blog
Chris   February 27, 2015  
0
1
Rockwell is proving that they can keep up with the big boys by coming out with their own brushless Drill & Impact Driver Combo Kit. Their brushless motor technology increases battery runtime by 50% per charge over brushed motors and is backed by a 10-year warranty.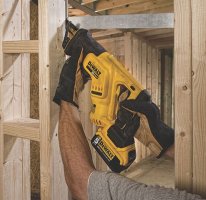 Tool Blog
Chris   September 25, 2014  
0
1
DeWalt is coming out with a new 20V Max cordless reciprocating saw that is more compact to allow remodelers, carpenters, plumbers, electricians, and the like to make controlled cuts in tight spaces such as between studs, or in crawl spaces. With reciprocating saws, sometimes smaller is better.
Tool Blog
Chris   September 21, 2014  
0
1
Black+Decker will be coming out with a pair of new 40V MAX (LCS1240) and 20V MAX (LCS1020) Lithium-Ion cordless chainsaws this November that they say provide the "convenience of cordless maneuverability" with "performance for cutting through dry wood and live logs".
Tool Blog
Chris   June 10, 2014  
0
3
DeWalt is introducing their next generation of batteries to work with their 12V and 20V MAX tool lines. The new EXTREME RUNTIME (XR) batteries offer a 2.0Ah capacity (DCB127) for 12V MAX and 5.0Ah capacity (DCB205) for their 20V MAX tools. Along with the new batteries is a new dual-port charger that can charge both batteries as well as a couple of USB devices.
News
Chris   February 04, 2014  
0
1
DeWalt has announced the launch of their new (DCS371) 20V Max Cordless Compact Bandsaw, which should be on sale now. Weighing in at only 9.4-pounds, and only 15-inches long, it truly is a compact saw for tradesmen with compact cutting needs.
18 results - showing 1 - 10