3 results - showing 1 - 3  
Hot Deals
Chris   May 23, 2014  
0
1
If you are looking for a miter saw that is good for both DIY'er and Professional alike, you might want to check out this hot deal on the DeWalt DW716 12-Inch miter saw. Amazon has a new low price of $327.99 on the saw, and it is the lowest I have seen this saw for.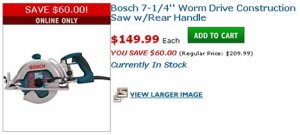 Hot Deals
Chris   July 09, 2012  
0
0
Many professionals consider the Bosch 1677M Worm Drive 7-1/4" Circular Saw to be a good upgrade from the classic Skil 77 Worm Drive and is comparable to the Skil Mag77. I should note that Skil is owned by Bosch Tools and that Bosch likely took some of the best of the Skill 77 to make the 1677M. You might have even noticed a couple of digits in the model number of the Bosch pay tribute to the classic Skil 77; the M also tells us that the saw features a light-weight magnesium foot plate. ...
News
Chris   November 21, 2011  
0
0
There have been a few small portable table saws on the market over the years, but DeWALT started a whole new table saw class with their DW745 Compact Table Saw. Following shortly after DW, with a saw of their very own, Ridgid came out with the R4516 Compact Table Saw, though it's life was short lived. But now after a few years, it looks like the time for the Ridgid R4516 has come again.
3 results - showing 1 - 3