2 results - showing 1 - 2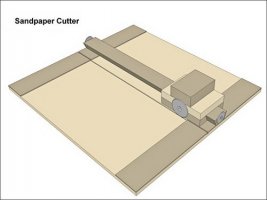 Gadgets
Chris   July 24, 2013  
1
1
If you have an electric sander that uses ½ or ¼-sheets of sandpaper, you probably find yourself spending a bit of time cutting your sheets to the correct size. If you use your sander fairly often, it can be a hassle cutting sheet after sheet. While cutting sandpaper is not exactly hard to do—and there are plenty of ways to do it—John Heisz from iBuildit.ca has a better way.
Hot Deals
Chris   January 18, 2012  
0
1
Ridgid's Trim router is a pretty good deal at around 100 bucks and the user reviews seem to back it up, but what if you could get an even better deal? Well of course this is a Hot Deal article, so a better deal does in fact exist. Home Depot is currently selling the Ridgid Trim Router for only $99, but it also includes a FREE bonus Ridgid 1/4-sheet sander; the sander alone sells for just under $50. The reviews on the sander do not seem to be as good as the reviews on the router, buy hey, you...
2 results - showing 1 - 2