Tool Blog
Chris September 10, 2014
0
2
Bosch has expanded their heated work wear line to include a new version of their PSJ120 heated jacket, this time for women. The new Bosch women's heated jacket has all the great features that can be found in the men's jacket, but it has a tailored-fit that is contoured to better match a woman's shape.
Tool Blog
Chris June 10, 2014
0
3
DeWalt is introducing their next generation of batteries to work with their 12V and 20V MAX tool lines. The new EXTREME RUNTIME (XR) batteries offer a 2.0Ah capacity (DCB127) for 12V MAX and 5.0Ah capacity (DCB205) for their 20V MAX tools. Along with the new batteries is a new dual-port charger that can charge both batteries as well as a couple of USB devices.
Tool Blog
Chris February 18, 2014
0
4
Let's face it, we all like the idea of smaller, lighter tools, but we also don't want to sacrifice on power. Bosch's new line of 12V Max Brushless drill/Drivers promise to deliver on both. With brushless technology the tool can offer more and weigh less.
Hot Deals
Chris August 13, 2013
0
1
Sears has a hot deal up right now on a 12V Drill and Impact kit for the low low price of $39.99, Regular $109.99. The kit also includes a single 12V lithium-ion battery. The kit would be considered light-duty by today's standards, but at only $40 it is well worth the price. Buy it as a tool to use around the house and it will pay for itself after just a few uses. Heck, the impact has more torque than the impact I used every day on the job a few years ago. If I didn't have...
News
Chris July 22, 2013
0
5
Not too long ago Milwaukee introduced a whole new line of M12 Fuel drills and impacts that feature the latest in brushless tool technology. If you want the most power from a sub-compact tool, these are it. But Milwaukee has not forgotten about their M12 (brushed) line of tools and has recently announced six new products that will either replace existing models or will add to the lineup.
News
Chris March 21, 2013
0
4
April fool's day is just around the corner, but DeWalt was not joking when they announced that their Model: DCR015 12V MAX/20V MAX Combination Radio/Charger will be available starting on April 1st.*
Manufacturer News
Chris March 15, 2013
0
19
Literally, if you took all of the products Bosch Germany announced the other day and multiplied them by X, they would surly weigh a ton or more. There are so many tools I don't know where to start—how do tools that talk to your smart phone sound?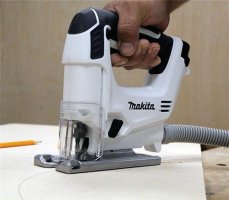 News
Chris December 07, 2012
0
2
It looks like Makita has really started to build up their 12V lineup, this time with the new VJ01W 12V Max Cordless Jigsaw. The VJ01W has a feature I would have never expected to see on an ultra compact jigsaw, and that is a dust extraction port.
News
Chris August 21, 2012
0
4
Black & Decker has just announced their new Matrix Multi-Head modular tool system which will allow users to build up their tool inventory one head at a time. Users will also be able to select the power of the new system by selecting one of three power base units.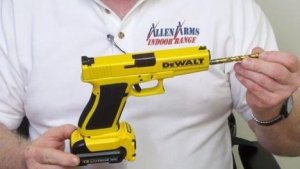 Gadgets
Chris June 22, 2012
0
1
The newest Yellow tool promises to make holes faster than any other ultra compact drill gun on the market today. However, with this greater speed does come some limitations. Unlike traditional drill guns, this model is limited to only 13 holes per charge and can only produce 11.5mm or .452 in sized holes. Its limitations might sound like a deal breaker but it also has the ability to produce holes at distances up to, and surpassing, 55 yards. In case it wasn't already obvious by the outlandish specs, what you are seeing is not a new drill...