3 results - showing 1 - 3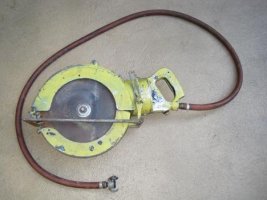 News
Chris   July 27, 2012  
0
1
Antique tool collectors might be interested in this rare WW2 era pneumatic (worm drive?) Skil Saw. Some of you older tool users may have heard folklore about such a tool, and maybe a rare few have even seen this mystical tool in person.
Manufacturer News
Chris   September 07, 2011  
0
0
Thought NiCad was dead? Guess again. We knew DeWalt planned to support their 18-volt line for years down the road, but I just assumed that meant their 18-volt lithium-ion line. It turns out that is not the case at all, because DeWalt has just announced the new DW059HK-2 1/2-inch Impact Wrench that uses good old 18-volt NiCad technology. This should be good news for people with a stock of 18-volt DW batteries, and don't feel it is time to upgrade. "The DW059HK-2 complements the other tools in our 18 volt system and...
Manufacturer News
Chris   June 01, 2011  
0
0
Today DeWalt announced the brand new DWS780 12-inch sliding compound miter saw. The saw does look very similar to the older DW718 miters saw, and if you compare the two carefully you will notice that some parts are mirrored. I have had a few days of use with the older model saw, but it was years ago and I hardly remember if it had any design flaws. Because the saws are so similar looking, there were probably only minor changes made to the saw, but having not used the new DWS780 it is impossible to say...
3 results - showing 1 - 3