16 results - showing 11 - 16
Manufacturer News
Chris March 02, 2011
0
0
Makita has announced some new 12-volt max tools, and pretty much completes an upgrade to their entire 12V line. Of course they could still always expand on their line, and that would be just fine with us. Some of the new tools we have seen already, such as the FD02W Drill/Driver and the SH01W Circular Saw that make up the LCT307 kit. The other new tools in the line seem to only have minor updates over the previous models. Power wise the specs appear to be the same as previous models, so it probably doesn't make...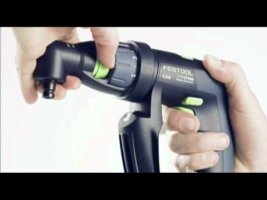 News
Chris February 10, 2011
2
0
Festool posted a teaser video on youtube of their new CXS Ultra Compact Cordless Lithium-ion Drill. The drill is expected to be released this May (the month of my birth *hint hint*) and will be powered by a 10.8 volt 1.3Ah battery that can be charged in 20 minutes. Festool didn't share very much in the way of specs, but the dill is already for sale in Europe and specs are probably the same. The CXS has a 2-speed transmission that gives us speeds at 0-400/0-1200 RPMs. The drill can be purchased as a standalone kit with a hex...
Reviews
Chris January 12, 2011
0
0
Introduction Porter-Cable first announced their ultra compact line of 12-volt tools back in August of 2010. They were one of the last of the major brands to make tools in the ultra compact category, but they had a few extra features that set them apart, as well as a lower price. One tool in the new line that caught my eye was their version of the ultra compact reciprocating saw; it had a new simple clamping feature that looked like could really come in handy. Porter-Cable was awesome enough to send their ClampSaw to...
News
Chris November 09, 2010
0
0
Most of the tools that get covered here at ToolRank have to do with construction; because well, I am a construction worker. Every once in a while I throw in a garden tool just for fun, but for the most part automotive tools get left out. This injustice to automotive tools ends today with the announcement of some new lithium-ion cordless tools from Matco. Matco has announced their Infinium line of cordless tools that were specifically developed for professional automotive technicians that require the power of pneumatics but the portability of cordless. Headlining in...
News
Chris November 03, 2010
0
0
There once was a time when small trim saws were sought after tools, but it seems as though they died off as people moved to bigger (better?) saws. Well, Makita is bringing the compact trim saw back; this time in a 12V lithium-ion form. So why are trim saws so great anyways? It is as simple as size and weight. With the new Makita SH01W 12V cordless saw you only get a maximum cutting depth of 1-inch at 90-degrees, and 5/8-inch at 45-degrees, but when you are cutting sheets goods, this is plenty. Of...
Reviews
Chris April 23, 2010
0
4
When Bosch asked if I wanted to review their latest 12 volt pocket driver, I just had to say yes. I asked the Tool-Rank readers not long ago if they thought 12 volt tools offered enough power, and now I would be able to see this for myself. It is weird that in the relatively short life of cordless tools we have come far enough that instead buying tools wanting excess power, we are looking at smaller tools with enough power. Why buy a tool that can drive a 6" lag bolt, when we only need to drive a...
16 results - showing 11 - 16