16 results - showing 1 - 10  
Hot Deals
Chris   April 06, 2012  
0
0
If you liked the Bosch ultra-compact drill Hot Deal we posted yesterday but want a Bosch drill with a quick connect chuck, then the PS21 is the drill for you. It is almost identical to the PS31 and features a 20 + 1 clutch, two speed transmission, and LED light. I did a review of this drill almost two years ago, so this model is a little old, but I still find myself using my PS21-2A all the time and it has plenty of power for its size. Bosch might have some updated models in the...
Hot Deals
Chris   April 05, 2012  
0
0
Lowe's seems to be clearing out a lot of Bosch tools lately. Every couple of weeks I am back with a new deal they are offering. Up for grabs this time is the Bosch PS31-2A 12V Max Ultra Compact 3/8" Cordless Drill. This is the ultra-compact drill version that features a real drill chuck, so there is no need to buy those special hex drill bits. Other features include a two-speed transmission, a 20 + 1 clutch, and an LED light. The PS31-2A has been marked down to $99 from $149 and there is no need...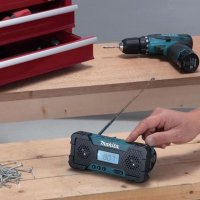 News
Chris   February 02, 2012  
0
1
Having a radio going while you work is like being inside a time warp. There is something about the music that makes the time just a little bit faster. But hauling a big radio onto the jobsite is the last thing on my mind when I have to unload a miter saw, air compressor and my other tools. Size is the reason I have not purchased a jobsite radio, but the latest radio from Makita UK is small enough to possibly be my first.
Editorial
Chris   January 10, 2012  
0
0
The world of tools is filled with lots of questions and confusions, which are sometimes magnified by tool manufacturers and their fancy way of using words to try and sell you something. These confusions can be hard for the consumer who just wants to buy the right tool. So, in order to clear up some of these questions, I thought I would answer some of the most common questions I receive.
News
Chris   September 26, 2011  
0
0
Personally I think right angle drills are becoming more and more irrelevant, primarily because of the smaller sizes of regular ultra-compact drill; and every year these ultra-compact drills get smaller and smaller. Even though the ultra-compact drill has taken away many a job that the right angle drill could do, there are still times when we need something even smaller. The PS11 is the latest right angle drill from Bosch, but unlike other right angled drills on the market, it has an articulating head. The new head allows the tool be used in standard...
Reviews
Chris   September 08, 2011  
0
1
Bosch sent me out their Cordless PS50 Multi-X a few months back, as well as their Corded MX25E Multi-X. Since I got them both around the same time, and have used them both on the jobsite, I figured it would be best to do a single article that reviews and compares both models together. Oddly, Bosch's introduction into the oscillation tool market was done with the 10.8/12-volt cordless PS50, while other manufacturers and even their own tool subsidiary, Dremel, all introduced corded models. But even though the PS50 is a few years old, it is still...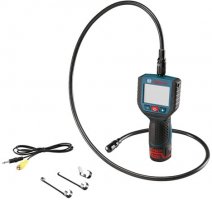 News
Chris   June 20, 2011  
0
0
Back in October 2010 Bosch announced their partnership with Perceptron, a global leader in optical scopes. This lead us to assume that Bosch at some point in the future would come out with a 12V inspection scope that would compete with the cordless models from some of the other major brands. It looks like our prediction was correct, as Bosch has announced their new PS90 12V Max Inspection Camera. The PS90 inspection cam allows people of all trades to get a view of small tight places. The camera comes with a waterproof flexible imager...
News
Chris   May 16, 2011  
0
0
Makita has added yet another tool to their ultra compact line. Makita's new entry to their line is the Model WT01 3/8-inch Impact Wrench. These are a little less common then your standard impact driver, but they have the same general function. The advantage of the impact wrench is its ability to handle sockets without the need for adapters. The WT01 offers 1,000 in.lbs. of torque in a tool that is only 6-3/8" long and weights only 2.1 lbs. The impact wrench uses a Makita-built motor that provides veritable speeds of 0-2,300 RPM's and 0-3,000 IPM's....
News
Chris   April 11, 2011  
1
1
Ultra compact drills are on everyone's wish list and Festool now has their fans covered with their very own 10.8-volt. Their new CXS drill has a special design that is said to offer better ergonomics and more comfort. Most other ultra compact drills use a battery-in-handle design because there is really no other place to put the battery. Festool chose to go with a D-handle design similar to their other drills, and moved the battery to the bottom of the drill. This allowed Festool to design the handle around comfort instead of the battery, and it also gave the...
News
Chris   April 05, 2011  
0
0
In a market now flooded with oscillating tools manufactures need to try and set their tools apart from the rest. The big advantage for Fein, the original oscillating tool, is their massive head start. Because of this, they have features such as tool-less blade changing. This is the feature Porter-Cable has chosen to use to set them apart. Besides Fein, Porter-Cable is the only other brand that offers a tool-less blade change system. Fein still holds a patent for their tool-less design, but it looks like Porter-Cable's own design differs enough to get around it. ...
16 results - showing 1 - 10