7 results - showing 1 - 7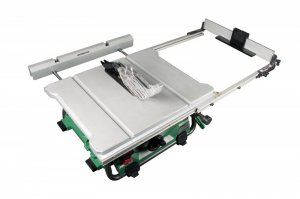 Tool Blog
Chris May 21, 2019
1
4
Metabo HPT is expanding on their MultiVolt cordless/corded tool line with the introduction of a 10-inch Portable Jobsite Table Saw. Metabo HPT  MultiVolt Tools like the new C3610DRJQ4 Table Saw can accept a 36V MultiVolt Battery or plug into a standard 120V outlets using their AC adapter.
Tool Blog
Chris May 19, 2014
0
2
Makita has come out with a new 10-inch sliding compound miter saw (model LS1018) designed to meet the needs of finish carpenters, flooring installers, and other trades who require both accuracy and portability. Weighing in at only 43.7 lbs, they have portability covered, but what about accuracy?
Manufacturer News
Chris October 21, 2013
0
1
Three years ago Bosch came out with a new axial-glide sliding system for their 12-inch miter saw, a system that uses articulating arms rather than rails to slide the saw blade back and forth. The Axial-Glide saw was the talk of the town, but people also wanted a 10-inch version. Now, just in time for Christmas, the CM10GD 10-inch Axial-Glide has arrived.
News
Chris November 21, 2011
0
0
There have been a few small portable table saws on the market over the years, but DeWALT started a whole new table saw class with their DW745 Compact Table Saw. Following shortly after DW, with a saw of their very own, Ridgid came out with the R4516 Compact Table Saw, though it's life was short lived. But now after a few years, it looks like the time for the Ridgid R4516 has come again.
News
Chris March 14, 2011
1
0
I was perusing the Bosch website the other day and came across a new table saw, the GTS1031 compact 10" worksite table saw. The GTS1031 is much different than your typical portable jobsite table saws and was specifically designed to be more compact, light weight, and portable. Many people simply do not need the full ripping capacity that a typical jobsite saw offers, and the 18-inch capacity that the GTS1031 offers is more than enough. The GTS1031 weighs in at 52lbs, which is 8 lbs less than their full sized jobsite saw, but is not as...
News
Chris January 27, 2011
0
0
We have miter saws with lasers, drills with lasers, and even hand saws with lasers, but up until now I have never seen a table saw with a laser. Rockwell has finally given us the laser line table saw you never knew you needed. The laser is designed to make it easier to see exactly where the saw blade will meet the wood, and should really come in handy for getting accurately sized miter cuts. The laser grabs our attention, but there is more to the saw. This is the first jobsite table saw...
News
Chris November 10, 2010
0
0
No, its not a 10-inch axial glide like many are hoping for, but it is new none the less. Or is it? It appears to be exactly the same as the previous 4410 except for the trigger handle. Instead of using the user rotatable handle, the 4310 uses a fixed handle. I was never a fan of the old handle anyways, so this is no loss. There might be some other minor changes, but basically it is the same saw. The 4310 will retail for less, so this new model appears to be a way for...
7 results - showing 1 - 7