5 results - showing 1 - 5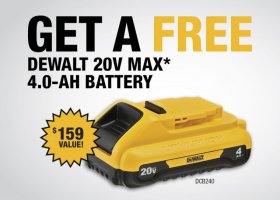 Tool Deals
Chris   September 16, 2022  
Now through October 31, 2022, DeWalt is offering a FREE 4.0Ah 20V Max Battery when you spend $300 or more (not including tax or S&H) on select DeWalt 20V Max Cordless Power Tools within a single-transaction purchase. The free battery you will receive after rebate is DeWalt Model: DCB240, which is valued at $159.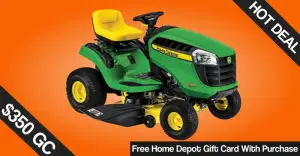 Archived Deals
Chris   March 31, 2017  
For a limited time you can get a Free Home Depot Gift Card worth up to $350 with select John Deere purchases at The Home Depot. The value of the Home Depot gift card is determined by the model of the John Deere Tractor or Zero-Turn mower that you purchase. Gift Cards values could be $150, $250 or $350 depending on the model. You can check this in the chart below. The offer is good for Online or in store purchases, though the Gift Card will arrive via mail-in-rebate.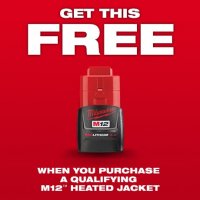 Archived Deals
Chris   January 10, 2017  
Milwaukee Tools is running a promotion for a FREE M12 3.0 Battery (48-11-2430) with the purchase of qualifying M12 Heated Jacket orders. It appears the offer is valid on both Kits and select (Jacket Only) purchases from Authorized Dealers of Milwaukee Tools. If you already have a charger, the free battery is a great way to get started with a heated jacket without having to steal a battery from your tools. If you are new to Milwaukee Tools, the Kit option comes with a charger and a battery, so the extra battery will give you some...
Archived Deals
Chris   November 04, 2016  
From now until the end of 2016, Miller is offering rebates from $50 to $200 on a selection of different Miller Welders and Plasma cutters. The lowest priced welder is their Millermatic 125 Hobby welder, which is priced at $499 after the $50 rebate. The prices go all the way to up $6,299 for the Miller Trailblazer 325 Welder/Generator after $200 rebate. In addition to the welder rebate, you can stack on anywhere from $50 to $200 in additional rebates if you spend between $150 and $500 on Miller and Hobart welding accessories. ...
Archived Deals
Chris   May 03, 2015  
Admin Note: Combine coupons and rebates to save up to $500.
5 results - showing 1 - 5