14 results - showing 11 - 14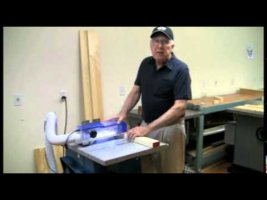 News
Chris   February 06, 2011  
1
0
ProTool Reviews and The WoodWhisperer both have some great articles about SawStop, a new rival flesh detecting table saw safety system, and what the Consumer Product Safety Commission can do to help lesson table saw injuries. It turns out that SawStop as a brand was not the first choice for Stephen Gass, the inventor of the table saw braking system. He originally went directly to table saw manufacturers to try and get them to license his SawStop system from them; but his licensing efforts failed. The SawStop technology was too expensive, heavy, and ruined saws blades after...
News
Chris   November 07, 2010  
1
0
The latest radio from Ridgid seems to be almost indestructible. In a video released by Ridgid, they went all out in a series of radio abuse tests. They dropped cinder blocks on it, used it to break boards, ran it over with a truck, and even threw it off of a roof top. All of that and it still survived. There is not much information out about the new radio, but at the end of the video they do give us a little. From what they tell us, it looks like it will be the first jobsite...
News
Chris   October 26, 2009  
0
0
During my recent look over at the Ridgid website I noticed something interesting. Ridgid is now re-branding a few of the more common MagSwitch products. This is likely to mean you have a pretty good chance of getting these at your local HomeDepot, or having them ordered from HD if they can not be found in your area. This is a smart move for MagSwitch if HomeDepot makes them available in most of there stores. This could also do a lot to get the MagSwitch name out there.
Editorial
Chris   April 19, 2009  
0
0
Just the other day while I was draining the rusty water from the tank of my air compressor, I was wondering why I haven't seen any aluminum air compressors on the market. They don't rust, and they would be much lighter then the steel tanks. After I made it home from work that day, I decided to search and see if there are any aluminum compressors. It turns out that there are a couple options. One is from Maxus Tools, and the other is from Ridgid.
14 results - showing 11 - 14