News
Chris   November 15, 2010  
0
1
ToolRank user SulSaw posted a really cool video in the TR forums that showcases the first zero clearance flush cutting circular saw. The Straight Flush was designed and built by a professional contractor of 15 years, who was looking for a faster way to do his job.
Around The Web
Chris   February 14, 2010  
0
0
Here is another simple to enter Twitter giveaway for you guys and gals. Sears is giving away a great starter package for any woodworker, homeowner or DIYer. The total value of the prize is worth over $700 and consists of: One (1) Craftsman 10" Laser Miter Saw (#21236) One (1) Craftsman Digital Miter Gauge (#29939) One (1) Craftsman 30 pc Router Bit Set (#26366) One (1) Craftsman Bar Clamp (#31484) One (1) Craftsman Base Plunge Router (#17540) One (1) Craftsman 10" Table...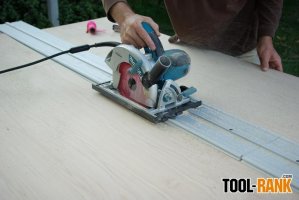 Reviews
Chris   January 20, 2010  
0
1
Oscillation tools seemed to top the list amongst DIYers this past year, but for many professionals, the step up to track saws was high on their list. Why track saws? Because they offer table saw quality and accuracy in a much smaller more portable tool. They also have the added benefit of being much safer to operate. Today I will be going over my experiences using the Eurekazone track saw system. Eurekazone sent over the EZ Smart Guide SGS-114" kit, which includes: (1) 64" rail, (1) 50" rail, (3) rail connectors, (1) Smart Base, (2) Smart Clamps, (2) AC-1...
News
Chris   December 09, 2008  
0
1
What is with the lack of selection when it comes to circular saws that are blade on left? It is actually very surprising to me that manufacturers do not make their circular saws in both versions. Do they not realize that some people are left handed, or are like me and just prefer to be able to cut with my right hand, and see the cut at the same time. Cordless saws are blade left, and so are worm drive saws. Why should people have to switch between both, and not have a choice? Some manufacturers actually...
Cool Tools
Chris   November 20, 2008  
1
1
There has been a lot of buzz about Track Saws with both DeWalt, and Makita finally coming out with versions for the USA. But I bet many people don't know that you can turn just about any circular saw into a track saw for a fraction of the cost of a complete track saw package all with a kit from EurekaZone. After all, why should you have to buy another circular saw if you already own one, especially if it's a saw you really like? Who needs Festool when you can make a track saw with your own circular...