News
Chris   February 22, 2012  
0
0
You can find quality tools from all of the major brands, but each brand also has their own tool or tools that they really specialize in. For Bosch, they really shine in jigsaws and rotary hammers. So it comes at no surprise that Bosch's latest Bulldog Xtreme Max Rotary Hammer (RH228VC) boasts best in class drilling capacity, speed, and vibration reduction.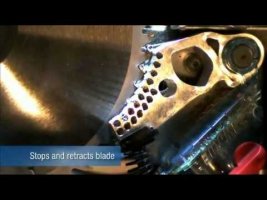 News
Chris   October 06, 2011  
2
0
The Wall Street Journal is reporting that the Consumer Product Safety Commission voted on Wednesday to move toward tougher safety standards for table saws. This comes as bad news for the Power Tool Institute and its members who believe the safety standards they adopted in 2007 are adequate when used properly; many of us actual tool users would agree. The problem is, the CPSC has been lobbied pretty heavily by inventor Stephen Gass, who wants every table saw in the US to use his safety invention which can stop a table saw blade as...
News
Chris   August 12, 2011  
0
0
We can always count on Dremel to bring us some cool new tools that make diy and hobby projects even easier. Up first is a new Rotary tool, the tool that really put Dremel into household across America. The new Dremel 3000 rotary brings us a few great new features and might just make some of you past Dremel users long for a 3000 upgrade. The first feature is something we have all been wishing for since we got our very first Dremel all those years ago, on board wrench storage. The 3000 is the first...
Manufacturer News
Chris   June 01, 2011  
0
0
Today DeWalt announced the brand new DWS780 12-inch sliding compound miter saw. The saw does look very similar to the older DW718 miters saw, and if you compare the two carefully you will notice that some parts are mirrored. I have had a few days of use with the older model saw, but it was years ago and I hardly remember if it had any design flaws. Because the saws are so similar looking, there were probably only minor changes made to the saw, but having not used the new DWS780 it is impossible to say...
Manufacturer News
Chris   April 26, 2011  
0
0
Maybe fearing the same kind of backlash after users complained about the Kapex when it was introduced to N.A., Festool has suddenly announced that they will not be releasing their Carvex Jigsaw on June 1st. We have no clue what the issues with the jigsaw could be or when we will see the strobing jigsaw again, but it must have been serious enough to cause Festool to pull it and not indicate when it will be reintroduced. This is in no way good news for the company, but it does show that they stand for quality....
Manufacturer News
Chris   April 18, 2011  
0
0
The "New DELTA®" Taking Shape In Anderson, South Carolina Anderson, SC – DELTA® Power Equipment Corporation's manufacturing, R&D, engineering and administrative facility continues to hit milestones with the transfer and installment of equipment and machinery from the Jackson, Tennessee location. The new location allows DELTA® to continue the Made in USA tradition of designing, manufacturing and marketing the world class UNISAW®, radial arm saws, line boring machines and BIESEMEYER® accessories. "Passion for this incredibly powerful brand, love of the industry and drive to innovate true, solution-based products and accessories for our loyal...
News
Chris   April 14, 2011  
0
0
Photo: John Tetreault What happens if the power goes out while you are using a power tool? You probably set the tool down and head over to the power box to see what the problem is. You find that the breaker has been tripped so you reset it. There is one problem though, you forgot to turn off the tool you were using when the power went out. The tool powers on and cut into the project you have been working on for a week. ...
News
Chris   March 07, 2011  
0
0
Are you tired of being told you can only cut up or down with your reciprocating saw? Most reciprocating saws use a blade clamping system that allows the blade to be inserted facing up, or more commonly, facing down. This simple feature lets users better position the saw so that the handle is out of the way when cutting up to a wall or to the floor. DeWalt doesn't seem to think 2 positions is enough for some users and has a saw with four blade clamping positions. These additional positions really come in handy when...
Manufacturer News
Chris   February 21, 2011  
0
0
I recently did a review of the the Porter-Cable 12-volt Reciprocating ClampSaw and thought that the clamping feature came in really handy. I suggested they bring it to their full sized saws, but sadly, PC just announced some new full sized reciprocating saws, but none of them have the clamping feature that a liked. Maybe next time Porter-Cable has unveiled two reciprocating saws, one with an orbital action, and one without. The PC85TRSOK Orbital TigerSaw features a crank arm mechanism that allows for a more compact design and also features a tool-free shoe adjustment....
Manufacturer News
Chris   February 07, 2011  
0
0
We knew this was all but finalized, but now we have the official word that the deal has closed. Delta Power Equipment Corporation Closes Deal with Stanley Black & Decker (Anderson, SC, February 7, 2011) – Delta Power Equipment Corporation announced today that its deal to purchase the DELTA® brand of woodworking equipment and machinery from Stanley Black & Decker closed on Friday, February 4, 2011 as expected. A wholly-owned subsidiary of Chang Type Industrial Co. Ltd., a Taiwan-based manufacturing company (Taiwan Stock Exchange symbol: 1541.tw), Delta Power Equipment Corporation...