News
Chris April 23, 2013
1
1
There is no doubt the original Skil77 is still a popular tool on the jobsite and it has seen few changes over the years. People seem to be happy with the design and always ask that it be left alone, but when pushed further they do wish it were lighter. The MAG77 was Skil's first lighter 77, but the MAG77LT goes even further.
News
Chris April 19, 2013
1
0
If you have been having a hard time finding the right angle grinder to suit your needs, I think your search just got a whole lot easier. Bosch has announced that they have overhauled their line of angle grinders are releasing a total of 11 new angle grinders that range in size and power to better match your needs.
News
Chris August 30, 2012
0
3
The field of oscillating tools continues to grown with another entry from Porter-Cable. They seem to be coming out with new models every year, and each time they add more features to make them even better. Let's take a look at what the new Porter-Cable PCE605K has to offer.
Hot Deals
Chris May 23, 2012
0
0
I am trying to bring you as many as the Fathers Day sales as I can this year and Bosch is rolling out all kinds of deals. I posted the deal on an 18V Bosch drill with 4 batteries for only $99, and now I see that RotoZip (owned by Bosch) also has a pretty good sale going on. From May 15, 2012 through to June 23, 2012 you can get $10 off of a $50-$99 order of select RotoZip tools and accessories. If your order is $100 or more, you can get $20...
News
Chris May 02, 2012
0
1
We have seen circular saws used as table saw replacements with the Eurekazone tracksaw system, and now there is a new system from PUPS (Portable Universal Power Station) that can turn a circular saw to an accurate miter saw.
Manufacturer News
Chris April 30, 2012
1
1
Skil introduced the Model 77 Skilsaw in 1937 and I imagine the saw played a large part in the rebuilding of America following the years after the Great Depression. 75 years later and the Skilsaw Model 77 is still around and we are going through what seems like another depression.
News
Chris April 16, 2012
2
0
Remember back in December I posted an article about rumors floating around the internet that Makita was coming out with an oscillation tool and that an 18-volt cordless model was also in the works? Well it turns out that the rumors were correct. Last week – while I was out sick – Makita posted a couple of videos on their Youtube channel that outed their new upcoming products.
Manufacturer News
Chris March 27, 2012
0
3
Hat tip to Jay over at CopTool for discovering this one. It turns out the 2012 Bosch Tool Catalog is now available at select tools stores and available online, and hidden inside its paper-thin walls are a few exciting new tools. Jay discovered a new Bosch Laser that is specifically designed to check the levelness of floors as well as a new Bosch wet tile/stone saw. Too bad it looks like the floor level cannot be used on walls. When doing wall paneling, a flat wall is a must and making a wall flat is the hardest part. ...
News
Chris February 22, 2012
0
0
You can find quality tools from all of the major brands, but each brand also has their own tool or tools that they really specialize in. For Bosch, they really shine in jigsaws and rotary hammers. So it comes at no surprise that Bosch's latest Bulldog Xtreme Max Rotary Hammer (RH228VC) boasts best in class drilling capacity, speed, and vibration reduction.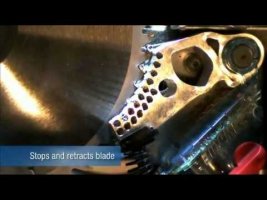 News
Chris October 06, 2011
2
0
The Wall Street Journal is reporting that the Consumer Product Safety Commission voted on Wednesday to move toward tougher safety standards for table saws. This comes as bad news for the Power Tool Institute and its members who believe the safety standards they adopted in 2007 are adequate when used properly; many of us actual tool users would agree. The problem is, the CPSC has been lobbied pretty heavily by inventor Stephen Gass, who wants every table saw in the US to use his safety invention which can stop a table saw blade as...