News
Chris   July 11, 2012  
0
2
Dremel has come out with a couple of new oscillating tool accessories that really expand the versatility of oscillating tools and should give you even more chances to use the Multi-Max on your projects. Both new accessories move away from the standard push blade model and instead cut when you pull the tool.
News
Chris   May 09, 2012  
0
0
It looks like the battle of 18V cordless oscillating multi-tools has officially begun. Porter-Cable is taking their oscillating tool design, with tool-less accessory change, to their 18-volt lithium-ion cordless line and is going up against Makita.
Hot Deals
Chris   May 04, 2012  
0
0
The competition surrounding oscillating tools is a view of capitalism as its best. Not only do we have more choices, but we are also getting better features at lower prices. Fein has been reducing their prices ever since, and deals are becoming more common. Now until June 1, 2012 Woodcraft is running a free $20 gift card deal with purchase of the Fein MultiMaster Q. This is the MultiMaster starter kit and also includes the tool-less blade change feature. The MultiMaster Q is currently selling for $199, so the $20 gift card brings...
News
Chris   April 23, 2012  
0
0
The JobMax is a tool that Ridgid makes that features a corded or cordless body that can accept interchangeable heads. The System has been out for a while now, with improvements and attachments coming along the way. Now it appears the next step for the JobMax system is to go pneumatic.
News
Chris   April 16, 2012  
2
0
Remember back in December I posted an article about rumors floating around the internet that Makita was coming out with an oscillation tool and that an 18-volt cordless model was also in the works? Well it turns out that the rumors were correct. Last week – while I was out sick – Makita posted a couple of videos on their Youtube channel that outed their new upcoming products.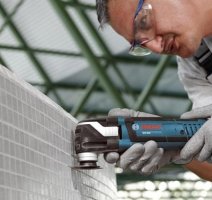 News
Chris   March 08, 2012  
1
4
I just received official word from Bosch that their new tool-less accessory change Multi-X oscillating tool is available now in stores. The new tool-less feature is something that we have all been waiting for, but the MX30E has other notable features that make the upgrade that much better. And at $199, the MX30E is still priced to match or beat the Fein MultiMaster.
News
Chris   March 05, 2012  
0
0
The Fein Multimaster has been around for years and it was not uncommon to see one on a jobsite every once in a while. They have been a popular tool to those who could afford them, yet seem an unnecessary tool to those of us who had never before used one. Of course that all changed when every brand in the world started making them after Fein's patent exclusivity ended. Now in an effort to keep the cash coming in, Fein has launched a new consumer package for their FMM 250Q.
Hot Deals
Chris   February 15, 2012  
0
0
Ohio Power Tool is taking some of the deals they offer at The Wood Working Shows and is putting them online for all to take advantage of, and these deals are awesome. What they have is 20% off a few popular Bosch tools and the addition of free shipping. All four items are lower than what Amazon is offering. Take a look at the deals below, and be sure to use the correct coupon code for each product. PS31B – 12V Tool Only - $39 – Coupon Code: WW1 MRC23EVSK...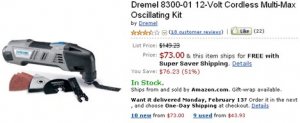 Hot Deals
Chris   February 10, 2012  
0
0
It is my opinion that if you are a professional carpenter, you should own both a corded and a cordless oscillation tool. The corded for when you need to do a lot of work, and a cordless for quick cuts and when you need to move around a lot. Unfortunately we cannot all afford to spend $300 to get both tools. Today only, Amazon has the cordless Dremel Multi-Max for only $73, and that is for a New kit. The kit includes a couple blades and a sanding pad to get you started, and also comes...
News
Chris   January 23, 2012  
1
0
I am still amazed at the amount of jobsite issues an oscillation tool can help me solve, and I am very thankful to have this technology. I also think back to jobs where an oscillating tool could have saved me a ton of time and energy. But as great as these tools are, the blades seem to be the weak link. Is the future of oscillation tools in blades? Maybe titanium blades?