Weekend Links
Chris   March 31, 2012  
0
0
12V Recip Saw Showdown, Milwaukee v Bosch v DeWalt v Makita – Coptool Which ultra-compact reciprocating saw is best? Coptool puts the 12V recip saws from the major brands in a head to head battle. They test cutting speed, power, battery life, comfort and more. Check out the review to see who Coptool chooses as the winner. Custom Woodworker Takes on OSHA and Wins – Woodworking Network The big bad OSHA is out there and they just might find you and fine you, even if you did nothing wrong. How?...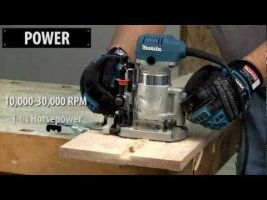 Manufacturer News
Chris   March 26, 2012  
1
0
We have seen in these last few years that people are moving away from bulky tools that do way more than they need from them, and instead are purchasing tools that better match their needs. In response to this, Makita has announced a new 1-1/4 HP Compact Router with multiple base options that should be able to handle most of your jobsite routing needs.
Manufacturer News
Chris   March 19, 2012  
0
0
Makita introduced a new Impact Driver (model LXDT04) and a new Hammer Drill (model LXPH01) over the weekend, but their specifications lead me to believe that these belong in a mid-range class. I don't know that Makita officially has a mid-range class of tools, but I believe these tools fall into that class for a number of reasons. Either that or Makita is moving in the wrong direction in order to produce more compact tools.
News
Chris   December 30, 2011  
0
4
All of the major brands, and many of the smaller brands, have oscillation tools on the market, except for Makita. A few rumors have been circulating around the internet that Makita is coming out with something in 2012, possibly 18V cordless, but I have not heard anything official from Makita just yet. However, a recent patent discovery tells us that Makita is at least working on an oscillation tool, and it could have a universal blade mount.
News
Chris   September 14, 2011  
0
0
One thing I really like about Makita is that they update their tools often; in many cases frequent updates could be perceived as a bad thing, suggesting that a product is being updated to fix an issue, but I have never found that to be the case with Makita. I have been using Makita impact drivers for over 10 years now, well before they were popular, and have used a few different models during that time. This time around Makita has no huge changes to their new LXDT01 1/4-inch Impact Drivers, but even the...
News
Chris   May 19, 2011  
0
0
One of the most requested tools I see talked about online is the cordless miter saw, and when Makita announced their first 36V lithium-ion tool I always expected them to come out with a 36V miter saw. Well I guess that for now I am still left waiting because Makita chose to go with 18V to power their new LXSL01 cordless miter saw. Though I can't say that I am disappointed with their decision, because their 18V line is super popular and already having 18V batteries will be a plus, if not a must. ...
News
Chris   May 16, 2011  
0
0
Makita has added yet another tool to their ultra compact line. Makita's new entry to their line is the Model WT01 3/8-inch Impact Wrench. These are a little less common then your standard impact driver, but they have the same general function. The advantage of the impact wrench is its ability to handle sockets without the need for adapters. The WT01 offers 1,000 in.lbs. of torque in a tool that is only 6-3/8" long and weights only 2.1 lbs. The impact wrench uses a Makita-built motor that provides veritable speeds of 0-2,300 RPM's and 0-3,000 IPM's....
Manufacturer News
Chris   March 02, 2011  
0
0
Makita has announced some new 12-volt max tools, and pretty much completes an upgrade to their entire 12V line. Of course they could still always expand on their line, and that would be just fine with us. Some of the new tools we have seen already, such as the FD02W Drill/Driver and the SH01W Circular Saw that make up the LCT307 kit. The other new tools in the line seem to only have minor updates over the previous models. Power wise the specs appear to be the same as previous models, so it probably doesn't make...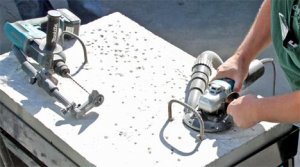 Manufacturer News
Chris   February 09, 2011  
0
0
Last week we saw a little about the latest dust extraction accessories Makita announced at WOC, and today I have some more information from a new press release to share. New Dustless Hammer Attachment (193472-7) The new dustless hammer attachment works with Makita SDS-PLUS corded and cordless rotary hammers. It features a 17" hose, telescoping spring-loaded barrel, depth stop, bit size adjustment knobs and a built-in ruler. World of Concrete attendees tried out Makita's new attachment and discovered several advantages versus competitive built-on systems, including better tool performance (competitor built-on vacuum motors...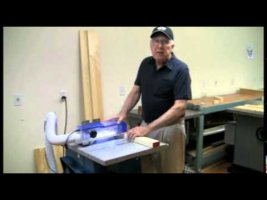 News
Chris   February 06, 2011  
1
0
ProTool Reviews and The WoodWhisperer both have some great articles about SawStop, a new rival flesh detecting table saw safety system, and what the Consumer Product Safety Commission can do to help lesson table saw injuries. It turns out that SawStop as a brand was not the first choice for Stephen Gass, the inventor of the table saw braking system. He originally went directly to table saw manufacturers to try and get them to license his SawStop system from them; but his licensing efforts failed. The SawStop technology was too expensive, heavy, and ruined saws blades after...