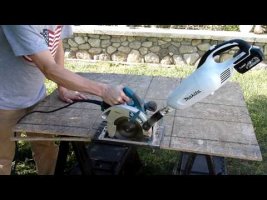 Tool Blog
Chris   April 29, 2013  
1
0
A year or two ago I was given a Makita BCL180ZW 18-volt cordless vacuum cleaner, which I normally use around the house for small clean-ups. The other day I glanced over at it and a thought popped into my head—"I wonder if that will fit onto my circular saw?" Only one way to find out.
News
Chris   April 18, 2013  
1
1
About 6 months ago I wrote about the Makita LXDT06 and its new Quick-Shift function after I spotted it on the Makita site. But shortly after I wrote about the new impact it was removed from the site. Now almost a year after Canada had it, it looks like we will finally have an opportunity to buy the LXDT06 for ourselves.
News
Chris   February 25, 2013  
0
2
If are ready to start building up a set of Makita 18V cordless tools, and one of their LXT cordless oscillating multi-tools is on your list, you might be interested to know that Makita is now selling them in combo kits.
News
Chris   February 08, 2013  
0
1
The World of Concrete trade show is going on right now in Vegas and all of the major brands are there showing off their new 4.0Ah 18-volt batteries. Well, not all of the brands. Makita seems to be taking a pass on 4.0Ah and thinks 6.0Ah is the answer.
News
Chris   February 01, 2013  
4
1
Makita has been making a real effort to offer dust collection accessory options for many of their new tools, which is something I really like, but until now they have been without an actual dust extractor of their own. So what does Makita and their new Xtraxt Vac (VC4710) have to offer?
News
Chris   December 28, 2012  
1
2
In need of moving some air without having to be tied down with long extension cords? Makita has you covered with the introduction of their new BCF201Z 18-volt LXT cordless fan. With it you have a hassle free way to dry mud, or just keep cool in the summer.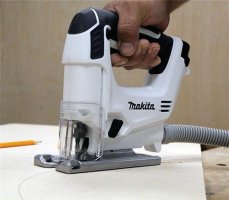 News
Chris   December 07, 2012  
0
2
It looks like Makita has really started to build up their 12V lineup, this time with the new VJ01W 12V Max Cordless Jigsaw. The VJ01W has a feature I would have never expected to see on an ultra compact jigsaw, and that is a dust extraction port.
News
Chris   November 21, 2012  
1
1
Just in time to get one before Christmas, Makita came out with the new LXRM03B Cordless AM/FM Jobsite Radio. Unlike previous models that featured only a line-in for mp3 player connection, the new model features an actual iPod dock.
News
Chris   November 06, 2012  
1
2
Back when Makita first announced their 36V rotary hammer 3 years ago I wondered why they just didn't make the tool run on two 18v batteries. I am sure they had their reasons, and maybe they expected to have more 36v tools out by now, but the 18v line is super popular and it just makes sense to have a tool that runs on the most popular battery.
News
Chris   October 05, 2012  
0
0
It doesn't look like Makita is on the same product release cycle as the other manufacturers. They have already released a couple of impact drivers this year, but I guess there is always room for one more, especially when it will replace their top of the line model.