Tool Blog
Chris   February 20, 2014  
0
2
Makita is expanding their line of AVT (Anti-Vibration Technology) rotary hammers to include a 1-inch Pistol-Grip Model (HR2611F) and a D-Handle Model (HR2621). Both hammers offer 3-mode operation for rotation only, hammering with rotation, or hammering only to match your application.
Tool Blog
Chris   January 24, 2014  
0
3
We all know how handy cordless circular saws can be, but we also know that they are usually lacking when it comes to overall power and battery run-time. Makita, continuing to expand their new 2x 18-volt (36V) system, showcased their new 2x Cordless 7-1/4" Circular Saw (XSH01Z) that I am sure addresses some of the cordless circular saw shortcomings that we have all come to know and dislike.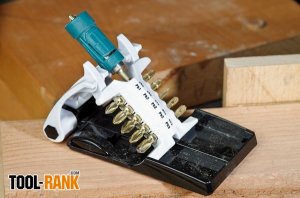 Reviews
Chris   January 23, 2014  
0
11
A while back Makita sent out a sample pack of their new Impact Gold Bits, Sockets, and Nut Drivers, all of which are rated to handle the high torque that today's impact drivers can deliver. They also sent out some fasteners, some fastening materials and some suggestions on how to put their new impact ready bits to the test. Of course I ignored their scenarios and put the Makita Impact Gold Bits to the test while on the job.
Tool Blog
Chris   December 06, 2013  
0
1
Makita has come out with a new 5-inch straight grinder that has been specially designed with features to handle the harsh dust conditions that a straight grinder can create while cutting or grinding on metal.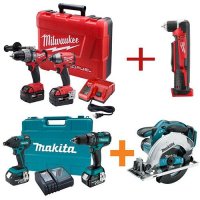 Hot Deals
Chris   November 07, 2013  
0
1
A reader sent in a tip about some sweet Free Bonus Tool promotions (with purchase of select Cordless Combo Kits) going on at HomeDepot. Initially we thought the promotion only applied to Makita and Milwaukee Tools, but it turns out there are DeWalt, Ridgid, Ryobi and Bosch deals as well.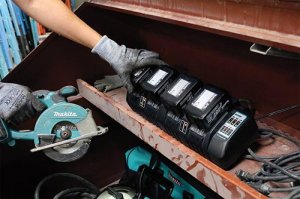 News
Chris   July 08, 2013  
0
1
If you are tired of having to watch your charger to know when it is time to put in the next battery, Makita has a new charger for you. Over the long holiday weekend Makita announced their new 18V Lithium-ion Rapid Optimum 4-Port charger. The new model DC18SF also happens to be Energy Star rated for efficiency.
News
Chris   July 01, 2013  
0
1
Back in May, when writing about the introduction of the Makita 36-volt cordless chainsaw, I commented that I would personally like to see a cordless string trimmer. Well, guess what turned up on Makita's website of Friday? The Makita LXRU02Z 18-volt cordless string trimmer.
Hot Deals
Chris   May 31, 2013  
0
1
If you have been shopping around, looking at tools for Father's Day gifts, you might have noticed that there are some really good deals going on right now at Amazon. Usually you can find deals for only one brand at a time, but this time there are cash off deals from Bosch, DeWalt, Dremel, and more.
Hot Deals
Chris   May 21, 2013  
0
1
Father's Day is coming up shortly and if tools are on your Dad's wish list, you might want to check out the Free Battery Promotion that Makita is running. If you buy a select Makita Combo kit you will get an additional 18-volt LXT Lithium-Ion Battery Free.
News
Chris   May 02, 2013  
0
1
It may not be very well known, but Makita as a worldwide company has a pretty extensive line of outdoor power equipment. Still, I was surprised to see a couple of cordless chainsaw SKU's make an appearance on their U.S. website.