Tool Blog
Chris   August 29, 2014  
0
1
Makita is continuing to expand their Brushless line of cordless tools, this time with a new 3-speed ½-inch Impact Wrench, model XWT02M. The new impact wrench kit will also include the new Makita 4.0Ah batteries, which have a best-in-class charge time of only 40-minutes.
Tool Blog
Chris   August 19, 2014  
0
1
Makita has just announced their newest brushless hammer drill, and it looks like they are not messing around this time. They say the XPH07 18-Volt Hammer Drill is able to deliver a full 1,090 in.lbs of torque, and leads the category in torque, speed, and run-time.
Tool Blog
Chris   July 22, 2014  
0
1
Makita has announced another cordless solution for landscapers with the addition of their 18V LXT Lithium-Ion Brushless Cordless String Trimmer (XRU04Z, tool only). It comes a year after their first cordless string trimmer hit US markets, but because of Brushless technology, it offers a significant increase in runtime.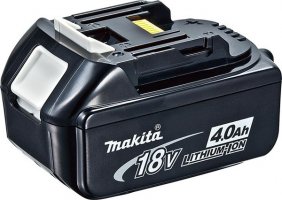 News
Chris   July 18, 2014  
0
2
Users, wanting greater runtimes in their tools, have been impatiently waiting for Makita to introduce their 4.0Ah batteries to the U.S. market. Though they have been available in other countries for months, we just got word that the new 2.0Ah (BL1820) and 4.0Ah (BL1840) batteries are finally starting to come out. In fact, the new 2.0Ah can already be found on sale now in new Makita 18V Compact Lithium-Ion Kits and Combo Kits.
Reviews
Chris   June 20, 2014  
0
9
One tool that everyone wants to be able to have as cordless, is the circular saw, and cordless multi-kits have been including them for years. But were these cordless circular saws any good? Nope. For years we have had to suffer with cordless saws that were so underpowered we wondered why we even bothered lugging them around—because they were convenient, that's why. When Makita announced their new XSH01 18V X2 Circular Saw, they promised us that their saw finally delivered the power and runtime that contractors need. And to make sure it is actually true, they sent us one...
Tool Blog
Chris   June 18, 2014  
0
2
For those of you wanting a small portable miter saw with a big cutting capacity, Makita has introduced their new Model LS0815F 8-1/2-inch Dual-Bevel Sliding Compound Miter Saw. Other than their 18V Miter Saw, it has been more than a few years since Makita has come out with a compact slider, and I am sure it will be a welcomed addition.
Tool Blog
Chris   May 19, 2014  
0
2
Makita has come out with a new 10-inch sliding compound miter saw (model LS1018) designed to meet the needs of finish carpenters, flooring installers, and other trades who require both accuracy and portability. Weighing in at only 43.7 lbs, they have portability covered, but what about accuracy?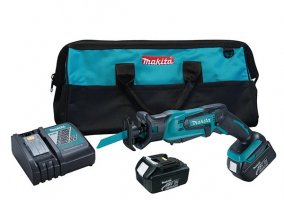 Tool Blog
Chris   April 02, 2014  
0
1
Makita has announced that they are adding a new 18V Compact Reciprocating Saw to their LXT cordless platform. This addition brings their LXT series to over 70 tools that can all use the same 18V battery.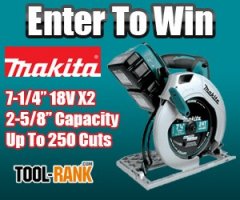 Tool-Rank
Chris   March 24, 2014  
0
1
Contest Information
Contest Ends
April 20, 2014
I am excited to announce that Makita has joined in on the giveaway fun and is offering up their brand new 18V X2 (36-volt) 7-1/4-inch Cordless Circular Saw for this month's giveaway. This saw gives you the power of a corded saw with the portability of a cordless by using two 18V batteries to give you a total of 36-volts of power. The added power that this saw offers also allows it to use a standard 7-1/4-inch saw blade rather than a typical 6 or 6-1/2-inch blade.
Tool Blog
Chris   March 12, 2014  
0
1
Makita is continuing to expand their line of concrete hammers with Anti-Vibration Technology and that includes the new 1-9/16-inch HR4013C AVT Rotary Hammer. They say is has 45% less vibration and 20% more impact energy than their own previous model, and that it is the leader of its class.