News
Chris   April 07, 2011  
0
0
When Black & Decker merged with Stanley we knew there would be some changes, but we had no idea Stanley, which is known for their hand tools, would be all but replaced by first Bostitch, and now DeWalt. But in fact the news is true; the DeWalt name will soon be found on a number of hand tools. DeWalt and hand tools just seems odd to me, but I am sure B&D has a plan. I guess it would help DeWalt if their yellow tools out numbered the other tools in one's tool bag; after all,...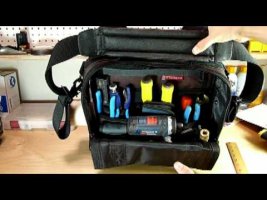 Reviews
Chris   March 28, 2011  
1
0
Tool organization is not one of my strong suits, so when Veto Pro Pac said they wanted to send me one of their tools bags to review, I happily accepted. What they sent out was their LC bag, the smallest of their closed top bags. You might be unfamiliar with Veto Pro Pac because they are not something you will find in your local bigbox store, but they have become popular amongst contractors because of their design functionality, and high quality build. I think the problem with most tool bags is they...
News
Chris   January 03, 2011  
0
0
I don't spend a lot of time on Twitter, but I do like to check in throughout the day to respond to my followers, and to see what might be new in the world of tools. A couple of days ago a tweet from @RocklerDave pointed to some new products that Rockler.com will be carrying. As a lover of tools, it was my duty to click on the link to see what was new.
Reviews
Chris   December 16, 2010  
0
0
Up for review today is the Ratcheting ReadyWrench that was provided without cost by Black & Decker. The Ratcheting ReadyWrench is a dog-bone style wrench that features selectable sockets on both ends of the tool. Each end consists of four universal sockets that are capable of fitting both Metric and SAE nuts and bolts. This feature gives the wrench a total of 16 sockets in one tool. The main selling point of the Ratcheting ReadyWrench is the 16-in-1 design coupled with a new ratcheting system. Offering a total of 16 wrenches in one small...
News
Chris   December 01, 2010  
0
0
One of the handiest tools we use is the nail set. I mean how ugly would our trim look with nails sticking out, or even worst, trim with hammer dents? So now that we have established how great they are, how can they be made better? Bostitch came up with a simple solution that improves upon the classic design, and does so without breaking the bank. Their new 58-500 nail set doesn't appear to be any different at first glance. It is only when you take a closer look that you notice it is...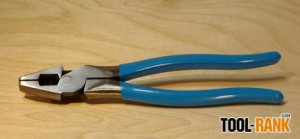 Reviews
Chris   November 12, 2010  
0
0
A while back Channellock sent over a pair of their 369 lineman pliers and I had the pleasure of putting this tool to the test. Now I am not an electrician, which the tool was originally designed for, but who couldn't use a good set of pliers to help out with life's daily problems. The pivoting action on the pliers was really smooth and a tell tail sign that these are quality made. Channellock recently updated these pliers by reducing the size of the pivot. This change allowed them to move the point closer...
News
Chris   November 11, 2010  
0
0
If you thought the tool bags from Veto were cool, you will probably love the new Dr. Wood bag from Occidental Leather. If you don't like the price of the Veto bags, you will absolutely hate the price of the Dr. Wood, at over $450. But lets take a look at the Dr. Wood, maybe its worth is hiding inside. First off, like all Occidental Leather bags, it is made in the USA. So if the other high end bags are priced in the $200 range and are made in China, the price for...
News
Chris   February 23, 2010  
0
0
You heard me correctly; this is some truly socking news coming from both companies. The Craftsman name is so linked to Sears, it almost hard to picture it inside of another store. It is almost like pouring Coke into a Pepsi cup, it is just wrong. Starting in May of this year, 100 select Ace stores will begin selling Craftsman products. My guess would be stores not near current Sears stores. The Ace stores will carry Craftsman hand tools, portable power tools, compressors, vacs, and tool storage; so pretty much everything. Then starting in...
Reviews
Chris   June 30, 2009  
0
6
Introduction It is always fun to test out tools for review, but it is especially fun when you know the tool you will be testing is something you need, or will make life easier. Such is the case with the Work Sharp 3000. Like me, I am sure a lot of carpenters have tools such as chisels and hand planes that get used and abused at work on a daily basis; but how often do those tools get the good sharpening they need to perform at their best. In the past I have used everything from belt...