News
Chris   October 17, 2011  
1
0
What do you use if you want the delicate touch and control that comes with a hand saw, combined with the precision you get with a powered scroll saw? Up until now I would not have had an answer for you, but thankfully for those interested, I came across the Precision Saw from Knew Concepts. Knew Concepts is becoming a well know name amongst people looking for high quality fret saws and when you just look at their tools, you can see why. Not only do they impress with their no-flex titanium fret saws with quick tension cam-lever, but...
News
Chris   October 14, 2011  
0
0
Before there were loud but powerful electric routers, there were quiet and serene hand powered router planes. If you ever watch Roy Underhill on his woodworking show, you have seen how valuable these tools were, and still are. Sure powered routers can cut fast, but sometimes you just want the light touch that can come with hand powered tools. In an episode of Rough Cut, Tommy Mac demonstrated how the router plane easily cleaned up a dado cut with a router, without the need for any jigs or templates. Lee Valley has just introduced...
Reviews
Chris   September 01, 2011  
0
0
I have never been a fan of folding utility knives. They always felts cheap, the mechanism that holds the blade in place seemed dangerous, and they were darn right uncomfortable to use. Their handiness was far outweighed by their design flaws. With all of the flaws in the Utility Folder class, could DeWalt's introduction of the DWHT10035 Folding Retractable Utility Knife do any better than the folders on the market today? DeWalt sent over the knife so I could find.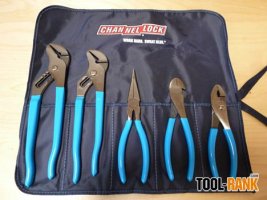 Reviews
Chris   July 27, 2011  
0
0
Channellock has put together a great general purpose tool roll set, and in my opinion it is the best tool set they offer. The Tool Roll No. 3 Gift Set includes the: 430 tongue & groove plier, 420 tongue & groove plier, 337 cutting plier, 3017 long nose plier, 526 slip joint plier. These 5 tools are a great addition to a DIYer's small collection of tools, and can be used for many of the most common DIY tasks. This is not some cheap tool set either, and should last a lifetime. Channellock sent me this...
News
Chris   July 25, 2011  
1
1
When installing windows or doors you need to use shims to help hold the frame level and plumb. Typically you would used the classic wood cedar shim or you would use the newer plastic or composite shims. But now there is another option on the table, air shims. The air shim I am talking about is called a WinBag, and it is actually a small inflatable bag that expands with a few hand pumps of air to fill gaps ranging from 2mm to 50mm (0.078" - 1.968"). Once you use the WinBags to get your project level and plumb,...
Cool Tools
Chris   July 05, 2011  
0
0
Need a hose clamp, but the ones you have are too big? Or maybe they are not big enough? The Clamptite might be the ideal solution to all of your custom hose clamping needs, or maybe just a cheaper solution for all hose clamping. The Clamptite is a fancy little contraption that allows its users to make custom hose clamps out of basic wire. This design also allows you to match the size and type to your needs. Needs a copper hose clamp? Use copper wire. The Clamptite sounds like a really cool product,...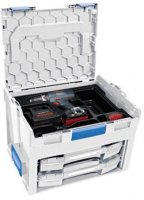 News
Chris   June 17, 2011  
0
0
Sortimo has announced their new LS-Boxx, which is identical in size to their medium L-Boxx's, but instead has an opening in the front for removable trays. These trays, called i-Boxx's comes in two sizes and come with insert boxes and feature a transparent lid. The top portion of the LS-Boxx opens just like a regular L-Boxx and can house small tools such as cordless drills. The advantage of this new box is its ability to carry a tool in the top, and all the accessories needed in the tray's below. Sortimo talks about different tray options...
News
Chris   May 10, 2011  
0
0
The F-style clamp has been a tool in my arsenal for as long as I can remember; for quick clamping needs I also turn to my Vise-Grip or Lock-Jaw clamps, but whenever I need greater clamping capacity, the F-style is the clamp I turn to. The F clamp is great in a lot of ways, but they also have their shortcomings. Thankfully, Rockler has come out their own version that seems to fix some of my dislikes. From a side view the clamp looks just like any other, but when you look at it...
News
Chris   May 04, 2011  
0
0
Utility blades never seem to last long enough, and now finally somebody is doing something about it. Stanley has launched a new utility blade that uses carbide to help strengthen the edge of the blade. They use some cool new laser technology that deposits tungsten carbide powder onto the edge of every blade, then use diamond wheels to grind on a razor sharp finished angle. This new procedure is said provide the blades with an edge that outlasts the competition by more the five times, but still remains flexible. "The introduction of the new...
News
Chris   April 20, 2011  
0
0
We briefly mentioned DeWALT's new adjustable wrenches when we covered the announcement that DeWALT would now be making hand tools, but we didn't have any information other then the price range of $10.99 to $34.99. Today DeWALT let the rest of the cat out of the bag and gave us a full press release. The wrenches will be available in five sizes (6", 8", 10", 12", 15") and features a black DeWALT Tough Coat™ magnesium phosphate finish that is said to help prevent chipping and also provides a no-slip surface. The wrenches also feature an increased...