News
Chris   February 04, 2013  
0
4
A couple of years ago Johnson Level first introduced their bamboo levels. Bamboo is advantageous to use for a number of reasons including strength and sustainability, so is it any wonder that they have decided to introduce a line of T-Bevels and Try-Squares that use the fast growing grass?
News
Chris   January 29, 2013  
0
1
While Veto Pro Pac has been making mostly messenger style bags since they first started, at the AHR (Air Conditioning, Heating, Refrigeration) Expo they announced that their first backpack style tool bag will be arriving this summer. Veto is not only a leader in tool bags, but they are also the brand that everyone dreams of owning, so I have a feeling their new backpack will be well accepted.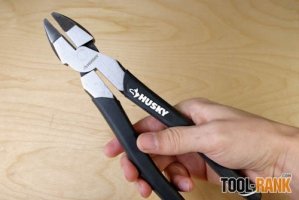 Reviews
Chris   November 18, 2012  
0
26
Husky has recently come out with a whole new line of pliers and wrenches that are designed to be affordable and come with a lifetime guarantee. They sent over a few of their new tools so we could take a look and let you know what we think about them. So lets jump right in.
Reviews
Chris   September 28, 2012  
0
10
When you are a tradesman there is balancing act that you are always faced with. There are only so many tools you can take with you, so you have to choose what stays and what goes, and this is why I like tools with more than one function. This is also why a company like Swanson makes a tool like the Savage SVK666 Folding Jab Saw/Utility knife. It takes two tools that are commonly used when working with drywall and combines them. But how well did Swanson do at pairing these two tools up? They sent us one so...
News
Chris   September 18, 2012  
1
0
What makes an efficient carpenter is having the right tool for the job close at hand. Unfortunately this means that you probably have one of every tool. To keep your tool collection organized and quickly within reach, Occidental Leather has come out with the 5588 Stronghold Master Carpenter Case.
Manufacturer News
Chris   June 18, 2012  
0
0
You have probably seen those Channellock pliers with the red and blue handles on them; well, those tools are part of Channellock's Code Blue line. They never seemed to be advertised as much as their classic line, and I guess that was because the handle grips were not made here in the USA. That was, until now.
Reviews
Chris   May 24, 2012  
1
4
People are always on the lookout for tools that allow themselves to work faster, heck, this is the whole reason electric drill/drivers were created. But there is such a thing as having too much power, and you end up putting precision at risk. The Swift Driver aims to provide people with a faster way to drive screws, yet still allow the user the control required for certain tasks.
News
Chris   April 03, 2012  
0
0
Were you wondering what happened to the Kobalt Double Drive screwdriver? They used to be advertised all over TV, but now they are not even listed on the Lowe's website. Well the tool is back, just under a new name and at a new location.
Cool Tools
Chris   April 01, 2012  
1
0
There have been huge safety changes to power tools over these last few years by manufacturers, fueled by consumer demands to cut down on harmful dust particles. Manufacturers are coming out with great new dust extraction advancements each year, but the hand tool category has remained completely untouched. But that has all changed with the introduction of the Veritas hand plane dust extraction shroud.
News
Chris   March 27, 2012  
1
0
Veto Pro Pac bags have been pretty popular among HVAC technicians, and now it looks like they will have a brand new line of Veto bags that have been specifically designed to meet their needs. The Tech bags have been designed based on user feedback, surveys, and field testing. The difference in the bags is due to the specific hand tools and diagnostic tools that HVAC and other technicians require.