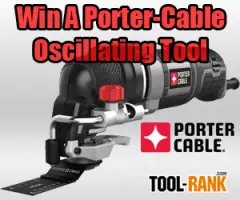 Chris August 31, 2012
0
1
Just a couple of days ago Porter-Cable announced their latest Oscillating Multi-Tool and now ToolRank has teamed up with them to give one of these bad boys away. This tool is barely hitting the store shelves and if you win you can be one of the first to own one.
When the power unexpectedly goes out due to the weather or a natural disaster, you realize pretty quickly if you are prepared or not. If you are not prepared and the power goes out at night, you are left scrambling for a flashlight, candles and a match, or any other source of light. Not only can your search for light in pitch black be difficult, but it can also be very dangerous. This month Tool-Rank has teamed up with Coast Portland to help you become more prepared for a power outage by giving away one of their...
Chris October 01, 2011
0
0
Contest Information
Contest Ends
October 31, 2011
Giveaway Ended Did you see my Coast A15 3xAAA LED Professional Flashlight review? If you didn't, you need to check it out and see all the features that make it great. Here at ToolRank I like to give away prizes that are useful, and who couldn't use a flashlight? But we all have flashlights at home, right? Well I do too, but none of them are as bright, as strong, or as cool looking as the Coast A15. The best feature of all is the dual lens that the A15...
Chris August 05, 2011
0
0
Contest Information
Contest Ends
August 31, 2011
This month ToolRank has teamed up with Blaklader Workwear to giveaway a complete Blaklader Workwear Bundle. The bundle includes one Blaklader Brawny Workpant, one cool Blaklader T-Shirt, and one pair of Blaklader Light Duty Knee Pads. Why is ToolRank giving away boring clothes? ToolRank is not giving away boring clothes, TR is giving away Amazingly Awesome clothes. I have been using Blaklader pants for about a year now, and I will not use anything else; that is how good the pants are. These pants are built with jobsite comfort, jobsite abuse, as...
Congratulations to Jennifer McCullar, winner of the Channellock Tool Roll #3 This month up for giveaway is a Limited Edition 125 Anniversary 5-Piece Channellock tool roll set that has been engraved with "1886-2011-- 125 Years Strong." This set is so limited, that when Channellock sent me the tool roll to try out, my own set did not have the special engraving. This 5-piece set of tools is perfect for your average homeower/DIYer or even a professional tradesman. The roll has tools that can help you conquer almost any task....
Congratulations to Jerrick Irby, winner of the Veto Pro Pac LC Bag Giveaways are fun; not only for you, but I enjoy them as well. So I am happy to team up with Veto Pro Pac this month to give away a brand new Veto Pro Pac LC tool bag (tools not included). This is the bag I showed you in my latest tool review. I really like the bag, and it retails for about $130, so I am sure you will like it too. ...
Congratulations to Gaberiel Keway, winner of the Johnson Digital Level It is always fun to start off a new month with a new tool giveaway. This month, Johnson Level has provided us with one of their new 48" Glo-View Digital Levels. This level has the same Glo-View vials as the Johnson level I reviewed back in September, but it also has a digital read-out. Johnson just sent me this same level for review, and I am already loving how simple the digital portion of the level is. ...
Chris January 31, 2011
0
0
Congratulations to Twitter user @Eleuthera1. She is the winner of the Black & Decker Ratcheting Ready Wrench. Up for grabs for this month's giveaway is a brand new Black & Decker Ratcheting ReadyWrench. I reviewed one of these not to long ago and found that it is something that just about any homeowner or DIY'er could use. Check out my review of the Ratcheting ReadyWrench to see just what I thought about the tool. Features include: Includes 16 of the most popular standard...
Chris January 01, 2011
0
0
Congrats to twitter user @jeff_williams. He was the lucky winner of the Johnson Laser Measure. We are back in giveaway mode thanks to Johnson Level. For this months giveaway Johnson Level is providing one of their new #40-6001 Laser Distance Measures. If you love tool tech. or just like the idea of using tools that make your job easier, an LDM is a must have tool. We covered their #40-6001 Laser Distance Measure back in August, but for those in a hurry, we have a taste of the...

Chris November 01, 2010
0
0
Congratulations to Gaberiel Keway, winner of the Dremel Trio. Dremel is sponsoring the prize for this month tool giveaway, and this time up for grabs is the new Dremel Trio. The Trio is a step in a new direction for Dremel by offering a tool that will plunge cut into your material. It uses special multi-purpose side cutting bits that allows the Trio to make cuts in any direction, in a variety of materials. You will also notice a handle that can pivot 90-degrees so that the user can be comfortable...