Chris October 10, 2013
0
1
Contest Information
Contest Ends
November 10, 2013
We all know that FEIN makes excellent oscillating tools, but their excellence isn't just limited to their tools, it also extends to their accessories. So to share their excellence with people that might not own a FEIN Oscillating Tool, FEIN has come out with their own Multi-Mount universal blades. To kick off the new Multi-Mount blades FEIN has given us a gift pack of their 160 E-Cut LongLife blades to give away.
Chris September 30, 2013
0
1
Contest Information
Contest Ends
October 31, 2013
If your back is tired of you always having to bend over to screw down floor boards or decking, you are probably going to want to enter our giveaway to win a Senco DS440AC Auto-Feed extension screwdriver Kit.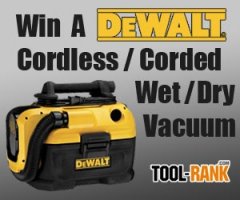 Chris September 03, 2013
0
1
Contest Information
Contest Ends
September 30, 2013
If you leave a mess at a job you might just end up getting yelled at; but fear not, for DeWALT has recently come out with a new wet/dry vacuum that is both corded and cordless and is small enough for you to take with you. Thanks to the fine folks at DeWALT, we have the aforementioned DCV581H Vacuum as the prize for this month's Tool-Rank giveaway.
Chris August 05, 2013
0
1
Contest Information
Contest Ends
August 31, 2013
It wouldn't be a very fun summer if it didn't have music, and that is what we are giving away this month. Well actually, we have teamed up with Bosch to give away one of their music making machines; the new PB180 18-volt Cordless/Corded Radio.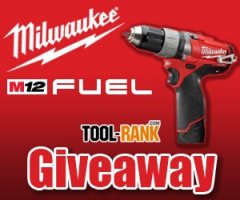 Contest Information
Contest Ends
August 09, 2013
Do you know what time it is? It's giveaway time. And since we haven't done a Milwaukee giveaway in a while, and because they have been releasing a lot of really nice products lately, we decided to team up with them for this giveaway. What we have to offer is one of their new M12 Fuel Brushless Drills.
This month Tool-Rank has teamed up with Weller to give away one of their newest LED soldering irons. If you have ever done any soldering you may have noticed that if you do not have light in exactly the right place, it can be hard to see what you are doing. Even if you have light right above your work space, your soldering iron can cast shadows where it is most inconvenient. Weller's new LED soldering iron features three built in L.E.D's that are spaced around the soldering iron to shine light evenly towards the tip of the iron...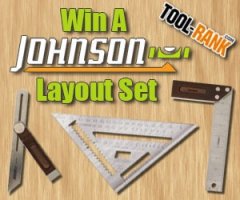 Contest Information
Contest Ends
April 30, 2013
There is something common we all need when working on any type of project, and that is good layout and marking tools. But one tool is not good enough for every task. This month Tool-Rank has teamed up with Johnson Level to give away three of their newest layout squares so that you are ready to tackle your projects.
Contest Information
Contest Ends
March 25, 2013
Milwaukee is currently running a giveaway on their Facebook page where you can win a pair of their Redlithium batteries. They will be giving away a grand total of $5000 worth of batteries that will go to a number of lucky winners. And because we are awesome, Milwaukee has also given Tool-Rank readers a second chance at winning a set.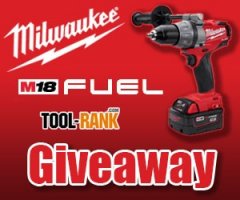 Chris January 28, 2013
0
1
Contest Information
Contest Ends
February 28, 2013
We took a little bit of time off from our giveaways over the holiday season, but we are back in the new year with a great new giveaway from Milwaukee Tool. Up for grabs this month is the Milwaukee 2603-22 high performance M18 Fuel brushless cordless Drill/Driver, a tool that features some of the latest in cordless tool technology. If you are looking for a powerhouse in a drill, this is it.
Chris October 01, 2012
0
1
Contest Information
Contest Ends
October 31, 2012
If you do not own an impact driver you are missing out on one of the best inventions to become mainstream over the last decade. They are a God send to anyone who drives screws, and many who use an impact driver find it impossible to revert back to driving screws with a traditional powered drill/driver. To learn more, check out: What's the difference between a hammer drill and an impact driver? Bosch Tools was awesome enough to sponsor this month's giveaway and provide one of their NEW model IDS181-02 18-volt Impact Driver Kits, so that...