Videos
Chris   July 12, 2012  
1
1
We all love to see things in slow motion. We get to see how the items we use every day really work and what secrets they hold that are normally hidden by normal speed. Check out the video below to see how your everyday Bosch tools work in slow motion. One thing we can see for sure is that it is always best to wear safety glasses when working with tools; there is a lot of small debris flying around.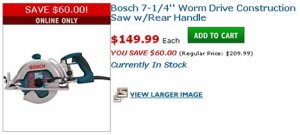 Hot Deals
Chris   July 09, 2012  
0
0
Many professionals consider the Bosch 1677M Worm Drive 7-1/4" Circular Saw to be a good upgrade from the classic Skil 77 Worm Drive and is comparable to the Skil Mag77. I should note that Skil is owned by Bosch Tools and that Bosch likely took some of the best of the Skill 77 to make the 1677M. You might have even noticed a couple of digits in the model number of the Bosch pay tribute to the classic Skil 77; the M also tells us that the saw features a light-weight magnesium foot plate. ...
Tool Blog
Gary   July 02, 2012  
1
5
Bosch, a name synonymous with professional grade tools and accessories, has recently concluded their 2012 press event. There, in addition to seeing their latest products, I got to meet some of the folks responsible for getting these great products into the hands of great professionals--like you. Informing our group, president and CEO of Bosch Power Tools, Terry Horan, mentioned that while other tool companies tout innovation, Bosch has their focus on invention, and that tweaking an existing tool to make it their own is not the way things are done at Bosch. I was reminded that Bosch is...
News
Chris   June 14, 2012  
1
17
We will be covering the Bosch Innovate press event today so be sure to follow Tool-Rank as we post the latest news on the social sites. Facebook, Google+, and Twitter. To get a taste of what is to be announced, take a look at the new GSL 2 Bosch Surface Laser Level which looks like a laser guided sentry gun in the teaser video below. X marks the spot. Update: Photos from the event have been added to the gallery below. More information on the tools and photos will be coming soon.
Hot Deals
Chris   May 15, 2012  
0
0
There are a few great deals on Bosch tools leading up to Fathers Day, but this one from Home Depot is a real sweet one. HomeDepot.com has the Bosch 18V Compact Lithium-ion Drill (DDB180-02) marked down from $148 down to $99 + F/S. And this is not just the tool, this is a complete kit with two batteries and a charger. If that was not good enough for you, this drill also qualifies for a Bosch mail-in rebate that will get you two additional 18V slim-pack batteries. So in total you get a Bosch 18V Compact...
News
Chris   May 10, 2012  
0
0
Since Bosch is the company that introduced us to the OIS (Oscillating Interface System) and has set the standard that most of the other brands are following, it seems fitting that they should be the ones to keep the flow of new blades and accessories coming. Titanium is the logical next step.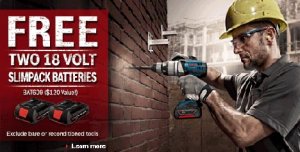 Hot Deals
Chris   April 18, 2012  
0
0
Now appears to be the best time to purchase a Bosch 18V cordless tool. Bosch has come out with a new promotion where you can get Two FREE SlimPack (BAT609) batteries if you purchase a new Bosch 18V Lithium-ion tool or the PowerBox 360 radio. The offer excludes bare tools and reconditioned tool purchases. This promotion runs from April 15 to June 16 2012. Free Battery Details Amazon is still running the promotion I posted a few days ago. Select Bosch 18V and 12V tools purchased from Amazon come with bonus free...
Hot Deals
Chris   April 06, 2012  
0
0
If you liked the Bosch ultra-compact drill Hot Deal we posted yesterday but want a Bosch drill with a quick connect chuck, then the PS21 is the drill for you. It is almost identical to the PS31 and features a 20 + 1 clutch, two speed transmission, and LED light. I did a review of this drill almost two years ago, so this model is a little old, but I still find myself using my PS21-2A all the time and it has plenty of power for its size. Bosch might have some updated models in the...
Hot Deals
Chris   April 05, 2012  
0
0
Lowe's seems to be clearing out a lot of Bosch tools lately. Every couple of weeks I am back with a new deal they are offering. Up for grabs this time is the Bosch PS31-2A 12V Max Ultra Compact 3/8" Cordless Drill. This is the ultra-compact drill version that features a real drill chuck, so there is no need to buy those special hex drill bits. Other features include a two-speed transmission, a 20 + 1 clutch, and an LED light. The PS31-2A has been marked down to $99 from $149 and there is no need...

Weekend Links
Chris   March 31, 2012  
0
0
12V Recip Saw Showdown, Milwaukee v Bosch v DeWalt v Makita – Coptool Which ultra-compact reciprocating saw is best? Coptool puts the 12V recip saws from the major brands in a head to head battle. They test cutting speed, power, battery life, comfort and more. Check out the review to see who Coptool chooses as the winner. Custom Woodworker Takes on OSHA and Wins – Woodworking Network The big bad OSHA is out there and they just might find you and fine you, even if you did nothing wrong. How?...