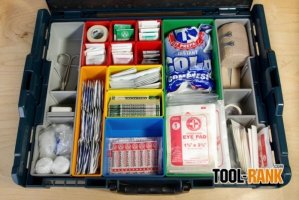 Tool Blog
Chris   October 22, 2012  
1
10
One thing you should always have, whether you are prepping for a natural disaster or not, is a good first aid kit. In the first part of my 72-hour emergency kit build I make use of the dividers that are included in the model L-BOXX1A, which is part of the Bosch Click & Go modular storage system.
Tool Blog
Chris   October 15, 2012  
1
1
Are you prepared to handle the aftermath of a natural disaster? The Red Cross, FEMA, and a countless number of other groups and agencies say that you should have at least a 3-day (72-hour) supply of food, water, and other supplies you might need to help you get through a disaster.
News
Chris   October 11, 2012  
0
0
What do you do when your jigsaw blade is not long enough? Until now you might have turned to a reciprocating, if you have one. Now with the introduction of a new line of blades from Bosch, you can turn to one of their new 10-inch Extra-Long Precision jigsaw blades.
News
Chris   October 08, 2012  
0
0
More than seven years ago Bosch released their Colt Palm Router; and who knew that all these years later it would be the router of choice by many tradesmen for light duty work. And while the Colt was good for light duty work, people always wanted more out if it. Now with the introduction of the PR011 Plunge Base, Bosch as given its tool all kinds of new possibilities.
Tool-Rank
Chris   October 01, 2012  
0
1
Contest Information
Contest Ends
October 31, 2012
If you do not own an impact driver you are missing out on one of the best inventions to become mainstream over the last decade. They are a God send to anyone who drives screws, and many who use an impact driver find it impossible to revert back to driving screws with a traditional powered drill/driver. To learn more, check out: What's the difference between a hammer drill and an impact driver? Bosch Tools was awesome enough to sponsor this month's giveaway and provide one of their NEW model IDS181-02 18-volt Impact Driver Kits, so that...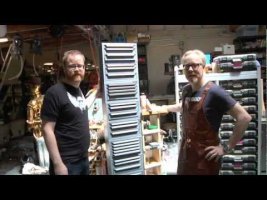 News
Chris   September 24, 2012  
1
0
Being on a show like Mythbusters it is pretty obvious that Adam Savage has a passion for making things. A person that makes things ranging from a small knick knack to a large catapult ultimately requires that he has a part for every situation and in every size. So with that many parts, how does he stay organized?
News
Chris   September 21, 2012  
0
1
One thing I really hate is jobsite dust, especially concrete dust. It gets all over the finished woodwork and always finds a way into my lungs. So the way to combat dust is to use a vacuum or a dust extractor. But we need one small enough to fit in the truck with the rest of the tools, and Bosch has one in the new 3931B-SPB 6.6-gallon Wet/Dry Vacuum.
Hot Deals
Chris   September 10, 2012  
0
1
I have always been one to wait and buy a tool when I can find it on sale. Why pay full price when you don't have too? If you too like a good sale, now might be the right time for you to buy some Bosch tools. Amazon is running a promotion until September 15th that gives you back either a $25 or $50 Amazon gift card depending on the Bosch tool or combo set that you buy. Just add both to your shopping cart and the gift card will show up as free when you go to check...
News
Chris   August 31, 2012  
0
2
How much power do you really need from an impact driver? Unless you are running lag bolts, you really don't need as much as the top of the line impact drivers offer. The race to be the most powerful will never end, but that doesn't mean that you need to participate in that race. You might just need something like Bosch's new IDS181 Impactor, an Impact Driver for driving screws.
News
Chris   July 31, 2012  
1
3
Bosch has always been a class leader in jigsaws and they are the brand that many professionals turn to first, so when they announce new jigsaws, everyone takes notice. At their recent media event, Bosch debuted their new JS572E Top-Handle Jig Saw and JS572EB Barrel-Grip Jig Saw, and Bosch did not leave anything out.