Manufacturer News
Chris   December 17, 2012  
0
0
Bosch is in a unique position as a company to really help out the victims of hurricane Sandy, and they have committed $340,000 in aid to do just that. Not only is Bosch a huge power tool company that can aid in the rebuilding efforts with their tools, but Bosch is also a leader in home heating, solar, and more. Teaming up with Lowe's, GM and Habitat for Humanity, they will be sending out 24 'Mobile Response Units' to the areas affected by the storm. Continue on to the official press release to read more about the...
News
Chris   December 14, 2012  
0
1
We have been hearing rumors about the new Bosch 4.0 batteries for a few months now and we have even seen some press releases for European tools that picture the new batteries. Now we have received word that the new batteries will hit European stores next month.
Tool Blog
Chris   December 06, 2012  
2
0
I have covered some of the most important things you should have in a 72-hour disaster kit, but there are still some items that you should probably have around to make your disaster experience go a bit smoother. In the Bosch L-BOXX-2 I put together some of the items that you would use daily, things like cooking utensils, soap, toothpaste and more. I am sure there are a lot more items that I could have added, but I am trying to balance what I really need versus the weight of everything.
Hot Deals
Chris   November 23, 2012  
0
1
Update 6/4/2013 - This deal is back up for grabs for a third time as an Amazon Gold Box Deal of the day. Even though a lot of time has gone by since this was first posted, this is still a good deal at $93 because of the two included L-Boxx cases. Update 1/8/2013 - Amazon has brought this deal back as a Gold Box for today. Get it while you can, you don't want to miss out. 11/23/2012 - We don't see deals like this very often, but this package deal that...
News
Chris   November 16, 2012  
0
1
Cutting plastics is not really that difficult to do, but making clean cuts on plastics is. If you use the wrong blade you will end up chipping the plastic, melting the plastic along the cut line, or in some cases, you might do both. A new Plastic Range of jig saw blades from Bosch has been designed to take on the problem that come along with cutting plastics.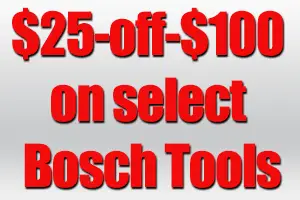 Hot Deals
Chris   November 15, 2012  
0
1
Bosch is really pushing out the deals this holiday season, and as long as they do, I am going to keep on writing about them. In addition to their $50 off Select Cordless Combos Deal that is still running, Bosch is also offering $25 off of select Bosch tool purchases of $100 or more. There are a total of 2,841 tools and accessories that are eligible for this deal, so don't be fooled by the "select tools" offer labeling. Prices range from under $5 up to $1500. Obviously the tools just at $100 or near there...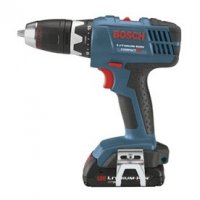 Hot Deals
Chris   November 11, 2012  
0
1
Lowe's is in a giving mood this Veterans day, offering some nice discounts on even more power tools and some accessories. It looks like these deals will expire tomorrow so you better act while you can. Don't forget about the Lowe's Black Friday and Christmas Days sales we posted last week. Thanks Vets for our Freedom and for giving retailers a reason to have sales.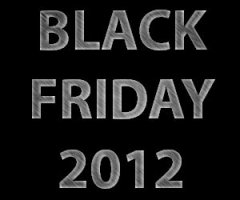 Hot Deals
Chris   November 07, 2012  
0
1
It is never too early to start shopping for Christmas or to at least start planning for your Christmas shopping. To help you plan your shopping Lowe's has pre-announced a few of their Black Friday deals, and if you are ready to start shopping now, Lowe's has a number of tools already marked down. Some of these are really good deals that are much lower than what Amazon is selling them at, including the tools that are on sale right now.
Hot Deals
Chris   November 01, 2012  
0
1
It looks like Bosch is one of the first tool companies to start gearing up for the Christmas shopping season by offering some nice discounts on tools. Now through December 25, 2012 Bosch has a number of 18-volt & 12-volt cordless combo kits marked down by $50. Not only is this a great way to save on some tools for yourself or a loved one, but by shopping at Amazon you are also supporting ToolRank. Win, win. Note: The $50 discount will be applied at checkout and is clearly labeled. BUY Bosch $50 Off Tools...
Tool Blog
Chris   October 29, 2012  
2
4
We all need to eat, so having enough food on hand incase of a natural disaster is key. The East Coast is currently being hit by hurricane Sandy and the days leading up to the storm led to crowded stores full of the unprepared looking to stock up on food. Building a disaster kit ahead of time could have saved these people a lot of stress.