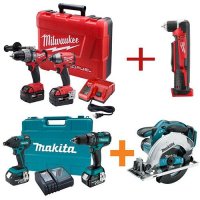 Hot Deals
Chris   November 07, 2013  
0
1
A reader sent in a tip about some sweet Free Bonus Tool promotions (with purchase of select Cordless Combo Kits) going on at HomeDepot. Initially we thought the promotion only applied to Makita and Milwaukee Tools, but it turns out there are DeWalt, Ridgid, Ryobi and Bosch deals as well.
Manufacturer News
Chris   November 05, 2013  
1
0
Bosch sent out an email yesterday with a subject line reading "Next big thing is coming!" If you open up the email there is a video (below) that shows the reactions of various contractors after they got their hands on it. In the video we can hear what sounds like an impact driver, but it is what one guy says that suggests it could be something more; "I'd say it's the next best thing... since the impact". He goes on to say "this makes it right here, the impact part of it..." So what is it, part...
News
Chris   October 30, 2013  
1
1
Bosch is taking laser measuring to the next level with the introduction of their GLM 100 C Laser Distance Measure, available next month. Not only is it packed with measuring and storage features, but it can sync with iOS and Anrdoid devices to extend its functionality.
Manufacturer News
Chris   October 21, 2013  
0
1
Three years ago Bosch came out with a new axial-glide sliding system for their 12-inch miter saw, a system that uses articulating arms rather than rails to slide the saw blade back and forth. The Axial-Glide saw was the talk of the town, but people also wanted a 10-inch version. Now, just in time for Christmas, the CM10GD 10-inch Axial-Glide has arrived.
Tool Blog
Chris   August 12, 2013  
0
3
Just in time for the cold that comes along will fall, Bosch has announced that they too will be coming out with a 12V Max Heated Jacket (Model PSJ120). Additionally, this means that they are also offering a 12V USB portable power source that powers the jacket and other USB powered devices.
Tool-Rank
Chris   August 05, 2013  
0
1
Contest Information
Contest Ends
August 31, 2013
It wouldn't be a very fun summer if it didn't have music, and that is what we are giving away this month. Well actually, we have teamed up with Bosch to give away one of their music making machines; the new PB180 18-volt Cordless/Corded Radio.
News
Chris   July 18, 2013  
0
1
Not wanting to let their 12V users be alone in the joy of having music on the jobsite, Bosch has come out with a similarly designed 18V portable jobsite radio. Unlike their previous 18V radio, Bosch slimmed down the size of the new PB180 so that it can fit inside an L-BOXX-2 tool case.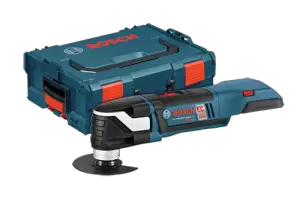 News
Chris   June 18, 2013  
0
1
We first saw the Bosch 18V Multi-X pop up on the German website back in March, and then Bosch confirmed that it would be coming to the US when it made an appearance on their US Facebook page in May. We have been anticipating the 18V Multi-X for a while now, and finally Bosch has given us a release date and a price to go with it.
News
Chris   June 04, 2013  
0
1
The really bad thing about oscillating tool blades is that they can't really cut into any hard metal and last for more than a few seconds. We have all been spoiled with the amazing powers of carbide and anything less seems like we are using a butter knife. So Bosch is giving us what we need in their OSC114C, a carbide tooth oscillating multi-tool blade.
Hot Deals
Chris   May 31, 2013  
0
1
If you have been shopping around, looking at tools for Father's Day gifts, you might have noticed that there are some really good deals going on right now at Amazon. Usually you can find deals for only one brand at a time, but this time there are cash off deals from Bosch, DeWalt, Dremel, and more.