Tool Blog
Chris   April 03, 2014  
0
1
If you have ever used a large hole-saw in a drill you know the dangers that can happen if the saw binds into the wood. The drill will either twist right out of your hand, or your wrist will end up twisting right along with it. To prevent this from happening, Bosch's new DDH181X Drill and HDH181X Hammer Drill use something called Active Response Technology.
Tool Blog
Chris   February 18, 2014  
0
4
Let's face it, we all like the idea of smaller, lighter tools, but we also don't want to sacrifice on power. Bosch's new line of 12V Max Brushless drill/Drivers promise to deliver on both. With brushless technology the tool can offer more and weigh less.
News
Chris   January 29, 2014  
0
1
Bosch is introducing a new SDS-Plus Mortar Knife Attachment that they say provides faster and easier mortar removal from between bricks, block and, stone. Either that, or it is the fastest butter knife attachment on the market.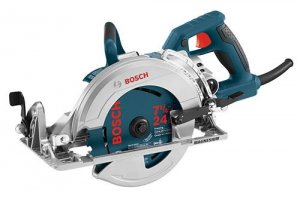 Tool Blog
Chris   January 21, 2014  
0
2
Not too long ago Skil came out with a new Magnesium Worm Drive Saw, and people on the internet quickly noticed that it looked less like previous Skil saw designs and more like the worm drive saws by Bosch. Well that news wasn't that surprising considering both brands are part of the Robert Bosch Tool Corporation. Now Bosch has announced that they too have come out with a new Magnesium Worm Drive Saw (CSW41), and except for the colors and some branding it looks just like the Skil MAG77LT. So did Bosch copy Skil who copied Bosch, or did...
Hot Deals
Chris   January 17, 2014  
0
1
I just spotted a new deal on Amazon where if you purchase a Bosch Heated Jacket, they will include a 12V Battery and Charger Free of charge. As far as I know Bosch doesn't sell their heated jackets as a kit that includes a battery and charger, so this is a great way for non-Bosch owners to get in on the warmth.
Tool Blog
Chris   January 16, 2014  
0
2
Bosch does a pretty good job at updating their laser levels, bringing us models with better specifications to replace previous models. This time around Bosch has announced the GLL 2-15 Self-Leveling Cross-Line Laser Level that looks to be replacing the older GLL2-40 with improvements to laser range.
Tool Blog
Chris   January 14, 2014  
0
2
As more people are concerned about dust levels on the jobsite or maybe just interested in keeping their customers' homes clean, Bosch has announced new 9-gallon (VAC090S and VAC090A) and 14-gallon (VAC140S and VAC140A) dust extractors with semi-automatic or automatic filter cleaning options. Each vac is also compatible with Bosch's Click & Go System, making it easy to keep your tools, accessories and vac together.
Tool Blog
Chris   January 08, 2014  
0
1
Just a few months after announcing their new 10-inch Axial-Glide Miter Saw, Bosch is continuing to expand their miter saw line with the addition of the new CM8S 8-Inch Single Bevel Sliding Compound Miter Saw. Bosch says they are answering user demands by coming out with a lightweight compact saw for greater jobsite convenience and portability.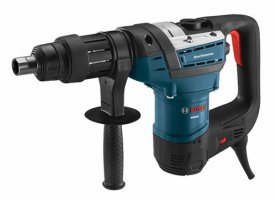 Tool Blog
Chris   December 10, 2013  
0
1
Bosch is introducing two variants of the RH540 1-9/16-inch rotary hammer that they say deliver the fastest drilling and the hardest hits in their class. Both SDS-Max(RH540M) and Spline(RH540S) models will hit stores in February 2014 at a suggested price of $419.
Tool Blog
Chris   November 08, 2013  
0
1
Bosch has announced that they have come out with the new GLL 3-50 three line laser, plus plumb dot. This laser looks to be a smaller cheaper alternative to the GLL 3-80, which uses a more complex optics system to produce three 360-degree planes.