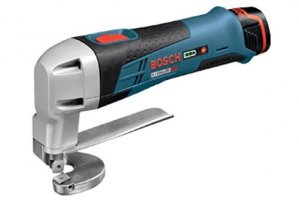 Chris   October 13, 2009  
0
1
If you read Tool-Rank regularly, (like you should) you would remember me talking about the Bosch 12 volt cordless metal shear in Europe. It has now officially been announced here in the US via press release, and can now be found on the Bosch website. The listing for the PS70-2A has also reappeared on Amazon after its brief listing.
Chris   October 08, 2009  
0
0
It looks like Makita has upgraded their highly ranked 3612C Plunge Router, which if you remember was awarded 2nd place among all 3+ HP plunge routers tested by Tools Of The Trade Magazine. It was second only to a Festool router which is 3x the price. The Makita models RP1800 and RP2301FC are both upgraded versions of the 3-1/4 HP 3612; with the RP1800 being a single 22,000 RPM speed and the RP2301FC being a 9,000 - 22,000 RPM variable speed. Not only looking better then the previous model, the new versions...
Chris   September 04, 2009  
0
0
No, you are not day dreaming... Makita has just introduced a brand new 36 volt cordless LXT lithium-ion 1" SDS-Plus rotary hammer. Makita says the new BHR261 was designed and engineered to offer the power and speed of a corded 1" rotary hammer, with the freedom offered from being cordless. The BHR261 has 3 modes of operation that should accommodate all of your construction/destruction needs: "Rotation only" for those delicate materials, "hammering with rotation" for drilling into harder tougher materials, and "hammering only" used for material removal. The BHR261 uses a Makita built motor...
Chris   August 24, 2009  
0
0
With impact drivers becoming more popular every year, it only makes sense that the accessories you use with your impact can hold up to the extra torque that impact drivers offer. The problem is most bits were designed with drills in mind and their much lower torque range. DeWalt saw this problem and has designed and engineered a new line of accessories specifically for impact drivers. DeWalt Impact Ready Products Include: IMPACT READY Drill Bits - Patented one-piece, taper web design...
Chris   August 19, 2009  
0
0
Just a few months back, the woodworking crowd was all a buzz about the new granite topped table saw from Ridgid. People were doing just about anything they could to find out the latest details about the saw, and how they could order one as soon as possible. Now it looks like that joy has come to a halt, although temperately. It seems as though the R4511 table saw doesn't play well with stacked dado sets, which can cause them to be "ejected from the saw". The good news is that you can set up an appointment...
Chris   August 14, 2009  
0
1
Just the other day, I was in the backyard trying to square something up on the floor of the patio. Unfortunately, there wasn't an easy method for me to do this over the long distance. I ended up getting the task done by using a 5 point laser and plumbing down to get a reference point on the ground. Not the fastest solution, but problem solved.
Chris   August 05, 2009  
0
0
If you were using Twitter at all last Wednesday, you might have noticed Dremel giving out a bunch of their new Detail Abrasive Brushes; a great way for them to kick off the launch of their new rotary tool accessory. The new Detail Abrasive Brushes are capable of sanding in hard to reach places by making use of a circumference of small flexible abrasive bristles. Each bristle on the brush is impregnated with sanding abrasive that wears down as the accessory is used to expose new...
Chris   August 04, 2009  
0
0
With the release of the new Delta Unisaw, also comes the release of a new line of premium saw blades. To find out what the masses wanted in a saw blade, Delta visited more then 100 professional woodworking shops to gather feedback from over 200 professional woodworkers. Using this feedback, Delta increased the size of the carbide on the teeth by 50 percent, allowing for additional resharpening down the road. The blades also feature laser cut expansion and harmonic body slots to reduce blade noise and vibration. Here comes the part I...
The much awaited, much anticipated (at least by me and my coworkers) Bosch pneumatic tools are coming out this month. Bosch had a couple of the framing nailers out since June, but now the rest of the guns are on their way to the store shelves. I also found out that my local tool store will be having some type of Bosch sales event this Saturday. This leads me to believe that the Bosch reps will be there demoing the new line and getting the word out. If you...
Like to break things? Makita has tools for that; like their new HM1214C AVT Demolition Hammer. AVT = Anti Vibration Technology; it is the counterbalance system Makita uses to get rid of that warm burning feeling you get in your hands and body while using fun destruction tools. We all hate that feeling. The HM1214C sports a 14 amp motor that produces between 950-1,900 BPM and 25.7 joules of impact energy. It weights in at 27.1 lbs. and is 27.5 inches long and uses a very nice sized 16.4 ft power cord....