Today DeWalt announced the brand new DWS780 12-inch sliding compound miter saw. The saw does look very similar to the older DW718 miters saw, and if you compare the two carefully you will notice that some parts are mirrored. I have had a few days of use with the older model saw, but it was years ago and I hardly remember if it had any design flaws. Because the saws are so similar looking, there were probably only minor changes made to the saw, but having not used the new DWS780 it is impossible to say...
It seems like more and more manufacturers are offering up longer warranties for their tools, and this is a move that I welcome. Duo-Fast is the latest to improve upon their warranty by giving their NEW 200-S and 200-C flooring staplers and nailers a 10-year warranty on all durable parts, and a 1-year warranty on parts that wear. Check the press release below for more details on the new warranties and the tools themselves.
Maybe fearing the same kind of backlash after users complained about the Kapex when it was introduced to N.A., Festool has suddenly announced that they will not be releasing their Carvex Jigsaw on June 1st. We have no clue what the issues with the jigsaw could be or when we will see the strobing jigsaw again, but it must have been serious enough to cause Festool to pull it and not indicate when it will be reintroduced. This is in no way good news for the company, but it does show that they stand for quality....
The "New DELTA®" Taking Shape In Anderson, South Carolina Anderson, SC – DELTA® Power Equipment Corporation's manufacturing, R&D, engineering and administrative facility continues to hit milestones with the transfer and installment of equipment and machinery from the Jackson, Tennessee location. The new location allows DELTA® to continue the Made in USA tradition of designing, manufacturing and marketing the world class UNISAW®, radial arm saws, line boring machines and BIESEMEYER® accessories. "Passion for this incredibly powerful brand, love of the industry and drive to innovate true, solution-based products and accessories for our loyal...
Bosch makes one million euros of immediate aid available for Japan Initial support for victims of catastrophe; further activities to follow in due course 03.24.2011– FARMINGTON HILLS, Mich. – The Bosch Group is making one million euros ($1,422,100 USD) available as immediate aid for the victims of the earthquake and tsunami in Japan. This will support the relief work being carried out currently in the country by the Japanese Red Cross. Further measures will be taken once there is a clearer picture of the extent of the damage and of the reconstruction...
Makita has announced some new 12-volt max tools, and pretty much completes an upgrade to their entire 12V line. Of course they could still always expand on their line, and that would be just fine with us. Some of the new tools we have seen already, such as the FD02W Drill/Driver and the SH01W Circular Saw that make up the LCT307 kit. The other new tools in the line seem to only have minor updates over the previous models. Power wise the specs appear to be the same as previous models, so it probably doesn't make...
Chris   February 21, 2011  
0
0
I recently did a review of the the Porter-Cable 12-volt Reciprocating ClampSaw and thought that the clamping feature came in really handy. I suggested they bring it to their full sized saws, but sadly, PC just announced some new full sized reciprocating saws, but none of them have the clamping feature that a liked. Maybe next time Porter-Cable has unveiled two reciprocating saws, one with an orbital action, and one without. The PC85TRSOK Orbital TigerSaw features a crank arm mechanism that allows for a more compact design and also features a tool-free shoe adjustment....
Chris   February 14, 2011  
0
0
Cincinnati, OH (February 9, 2011) – Kett Tool, leading producer of electric and pneumatic portable power saws, shears and nibblers, introduces the KD-200 double-cut shears. The KD-200 cut C.R. mild steel up to 18 gauge in straight or contour lines at over 300 inches per minute and stainless steel up to 20 gauge at over 180 inches per minute. The swiping action of the KD-200 blades seals the edge of coated metals, and the 7/32" waste strip leaves a clean cut. The KD-200 are ideal for fabricating and general manufacturing work. Portable and weighing...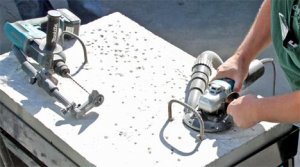 Chris   February 09, 2011  
0
0
Last week we saw a little about the latest dust extraction accessories Makita announced at WOC, and today I have some more information from a new press release to share. New Dustless Hammer Attachment (193472-7) The new dustless hammer attachment works with Makita SDS-PLUS corded and cordless rotary hammers. It features a 17" hose, telescoping spring-loaded barrel, depth stop, bit size adjustment knobs and a built-in ruler. World of Concrete attendees tried out Makita's new attachment and discovered several advantages versus competitive built-on systems, including better tool performance (competitor built-on vacuum motors...
Chris   February 07, 2011  
0
0
We knew this was all but finalized, but now we have the official word that the deal has closed. Delta Power Equipment Corporation Closes Deal with Stanley Black & Decker (Anderson, SC, February 7, 2011) – Delta Power Equipment Corporation announced today that its deal to purchase the DELTA® brand of woodworking equipment and machinery from Stanley Black & Decker closed on Friday, February 4, 2011 as expected. A wholly-owned subsidiary of Chang Type Industrial Co. Ltd., a Taiwan-based manufacturing company (Taiwan Stock Exchange symbol: 1541.tw), Delta Power Equipment Corporation...