You have probably seen those Channellock pliers with the red and blue handles on them; well, those tools are part of Channellock's Code Blue line. They never seemed to be advertised as much as their classic line, and I guess that was because the handle grips were not made here in the USA. That was, until now.
The countdown has come to an end and the announcement we have all be waiting for has arrived and passed. Most of us had assumed Powermatic's Big new tool would be a table saw and some even guessed it would have flesh detecting technology, but it turns out Powermatic's new tool is actually an enormous lathe.
I am not sure exactly what this means, but Powermatic has a large graphic that is taking center stage on their home page and it is counting down to this Friday morning (6/8/2012). Just about everything Powermatic makes is big in reality, so is the news big because the product is BIG, or is the news big because the news is BIG? Either way, I guess we will find out this Friday. Feel free to post your guesses or dreams of what is coming in the comments below. The obvious guess is a new...
Oh great another cordless LED work light. And when I say oh great, I mean it in the good way. Oh Great!!! Having enough light while working is a must, so I am always happy to see new and better lights coming out. The New 18-volt Makita LXLM03 12 LED work light (flashlight) is looking like a nice step in the right direction.
Skil introduced the Model 77 Skilsaw in 1937 and I imagine the saw played a large part in the rebuilding of America following the years after the Great Depression. 75 years later and the Skilsaw Model 77 is still around and we are going through what seems like another depression.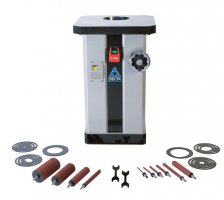 It looks like things are picking up steam over at Delta Power Equipment. It has been a little over a year since Delta was sold from Back & Decker, and they are expanding their line of shop tools with four all new heavy duty sanding machines. The new tools include a Dual Drum Sander, Oscillating Edge Sander, Oscillating Bench Spindle Sander and Oscillating Spindle Floor Sander. For more information, read on.
Hat tip to Jay over at CopTool for discovering this one. It turns out the 2012 Bosch Tool Catalog is now available at select tools stores and available online, and hidden inside its paper-thin walls are a few exciting new tools. Jay discovered a new Bosch Laser that is specifically designed to check the levelness of floors as well as a new Bosch wet tile/stone saw. Too bad it looks like the floor level cannot be used on walls. When doing wall paneling, a flat wall is a must and making a wall flat is the hardest part. ...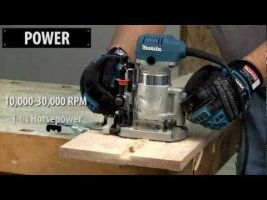 We have seen in these last few years that people are moving away from bulky tools that do way more than they need from them, and instead are purchasing tools that better match their needs. In response to this, Makita has announced a new 1-1/4 HP Compact Router with multiple base options that should be able to handle most of your jobsite routing needs.
Not long ago I wrote about how Adam Savage from Mythbusters loves portable bandsaws. Since he does a lot of traveling for the show, I think he might get a kick out Milwaukee's latest cordless bandsaw which holds the title of lightest and most compact bandsaw on the market. Milwaukee's bandsaw is also the first to run on only 10.8-volts (M12).
Delta has announced a new 14-inch bandsaw that features a 1 HP, 115V/230V, 1 phase TEFC (Totally Enclosed Fan-Cooled) motor. The new 28-400 bandsaw is built around a heavy-duty steel frame and sits upon a steel stand, both of which are said to reduce unwanted flexing. A relatively small foot-print and a 6-inch high cutting capacity should make this saw a good home workshop option.