Craftsman has been in trouble for a number of years, I think mostly due to the fact that Sears itself has been having problems. Today, though, Stanley Black & Decker completed their purchase of the Craftsman brand from Sears Holdings Corporation, and Craftsman will have a second chance as a maker of American tools.
Press Release: 06/02/2014 MILWAUKEE, WI – Today, Milwaukee Tool announced the acquisition of the Empire Level business based in Mukwonago, Wisconsin. Steeped in history dating back to 1919, Empire Level is a fully integrated solutions provider in the Layout and Measurement product categories. Empire is the leading US manufacturer of levels, squares, layout tools, and safety and utility tape. "From the invention of the Monovial, to the introduction of the first Torpedo Level, Empire has a strong history of innovation. We share a passion for delivering best-in-class solutions for our users," says Steve...
Chris   January 27, 2014  
0
1
DeWalt has always received high reviews for their cordless gas-free trim nailers, and now it seems they are ready to utilize their technology in a more powerful cordless framing nailer. The DeWalt DCN692 will be their first dual-speed gas-free 20V Max Cordless Framing Nailer.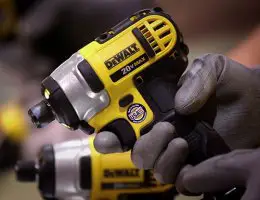 Chris   November 11, 2013  
1
1
Today DeWalt announced that they will begin to build more than 600 different hand tools, cordless tools and accessories in the USA using global materials. Included will be some of their most popular products, such as the 20V Max Lithium-ion Compact Drill/Driver Kit and the 20V Max Lithium-ion ¼-inch Impact Driver Kit. The new tools will be marked with a "Built In USA" logo.
Chris   November 05, 2013  
1
0
Bosch sent out an email yesterday with a subject line reading "Next big thing is coming!" If you open up the email there is a video (below) that shows the reactions of various contractors after they got their hands on it. In the video we can hear what sounds like an impact driver, but it is what one guy says that suggests it could be something more; "I'd say it's the next best thing... since the impact". He goes on to say "this makes it right here, the impact part of it..." So what is it, part...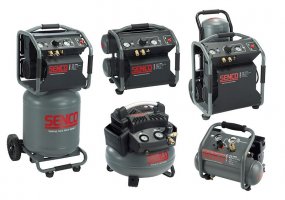 Chris   October 29, 2013  
0
1
If you are looking for a lightweight compressor that is portable and can tackle trim work, Senco has new 1-gallon and 6-gallon compressors that might be just what you need. If you want to go bigger, they have also announced three new 200 PSI compressors.
Chris   October 21, 2013  
0
1
Three years ago Bosch came out with a new axial-glide sliding system for their 12-inch miter saw, a system that uses articulating arms rather than rails to slide the saw blade back and forth. The Axial-Glide saw was the talk of the town, but people also wanted a 10-inch version. Now, just in time for Christmas, the CM10GD 10-inch Axial-Glide has arrived.
Chris   October 11, 2013  
0
1
If you having been paying attention to our giveaways, you might have noticed that Senco has come out with an all-new 3-inch DuraSpin Auto-Feed Screwdrivers. In addition, Senco also came out with an extension pole attachment and other accessories to make using their new guns as easy as possible. If cordless is more to your liking, they also have an 18-volt model ready and waiting.
Chris   October 04, 2013  
0
2
Milwaukee Tools is set to release a total of six new M18 Compact Drills and Drivers over the next few months that will replace existing models. The new models include two Drills (2606-22CT, 2607-22), two Impact Drivers (2657-22CT, 2656-20), and Two Impact Wrenches (2658-22, 2659-22). All six boast improvements to ergonomics and overall performance.
Chris   September 24, 2013  
0
3
If you have been impatiently waiting for Milwaukee to release their 2626-22 M18 Cordless Oscillating Multi-Tool to use alongside your other Milwaukee cordless tools, you won't have to wait much longer—like maybe only a few more days. Along with a freshly delivered press release (below) as evidence, ToolBarn.com has them listed as shipping October 1st.