You think Rockler has done all they can do with their Bench Cookies? Think again. Rockler has come out with yet another accessory for their Bench Cookie, this one called Bench Cookie Bridges. Bridges offer another way to turn the Bench Cookie into a raised finishing platform.
Often times the homemade tools we find are more interesting than the actual tools they are meant to mimic. Such is the case with a rotary tool design that is powered by the suction of a vacuum and has the secondary effect of cleaning up after itself.
It looks like Bosch US will be coming out with an 18-volt version of their oscillating multi-tool. They gave us a sneak peek at what is to come on their Facebook page. From the photo all we can really see is that it runs on 18-volts and has the tool-less blade change feature that is found on their corded models, but I suspect it is pretty much the same as the cordless model that is already available in Europe. No word on pricing or availability.
Milwaukee has seen so much success with their Fastback utility knife that they have decided to do it again. Meaning, they came out with a Fastback II utility knife. The Fastback II doesn't have any major changes over the previous model, but it does have the one thing everyone was asking for—on-board blade storage.
Nobody likes to spend their hard earned cash on driver bits or sockets, only to have them break after a few uses in your impact driver. This used to be a big problem when impact drivers were first introduced and people might be noticing it again now that impacts are offering even more torque. Irwin has introduced a new Impact Performance Line that has been designed with today's impact drivers in mind.
Kreg is making using their products a bit easier and a bit faster with their new line of Automaxx self-adjusting clamps. Best of all, they came out with a self-adjusting AutoMaxx Klamp that works with their existing Klamp line, like the Klamp Table or Klamp track.
It may not be very well known, but Makita as a worldwide company has a pretty extensive line of outdoor power equipment. Still, I was surprised to see a couple of cordless chainsaw SKU's make an appearance on their U.S. website.
If you want to nail into concrete using pneumatics, usually you need a special high-pressure compressor to go along with a high-pressure nailer. Senco's new SCP40XP concrete nailer lets you use your regular air compressor yet drives up to 1-1/2-inch nails into concrete.
There is no doubt the original Skil77 is still a popular tool on the jobsite and it has seen few changes over the years. People seem to be happy with the design and always ask that it be left alone, but when pushed further they do wish it were lighter. The MAG77 was Skil's first lighter 77, but the MAG77LT goes even further.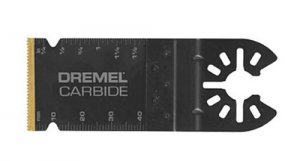 Dremel has come out with a new carbide oscillating tool blade that they say is the first oscillating tool blade on the market with high performance carbide teeth. These are unlike previous carbide oscillating blades that feature only carbide grit.